Many Americans are moving to Paris from the USA and for good reason. Although Paris is the city of love, there are plenty of other reasons to move to this incredible city. Whether you're an expat in the USA moving back home or an individual relocating with your family for work reasons, our international movers offer a stress free process. But first, you have to get there safe and sound with your belongings. There is definitely a list of tasks to be done before moving overseas. In addition to these tasks, we wanted to give a brief overview of the journey that your shipment will go on as it finds its way to your home in Paris.
Read our guide on how to move to Paris from the USA and start your relocation today!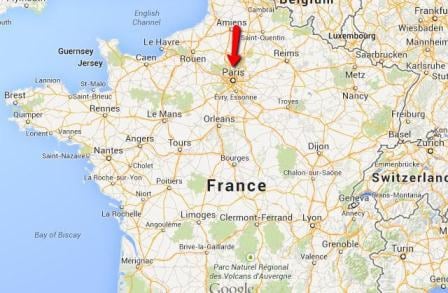 Ship Your Effects With a Reliable International Moving Company
When it comes to receiving your personal effects, there are a number of ways in which your goods will end up in your possession.
Most individuals elect a door to door moving service and it makes the overall process of moving less stressful. So for those shipping household goods to Paris, once your belongings depart from the US they'll enter one of the primary ports of entry.
Upon arrival, your effects will be cleared through customs by our overseas agents and depending on the service, they may be delivered to your doorstep straight from the port or unloaded at our agent's warehouse and then delivered via van.
Documentation and Customs Procedures
There are documents that are absolutely vital to help your international mover clear your household goods through customs.
The most important document is the Certificat de Changement de Residence, or the change of residence certificate. Others include:
detailed inventory list (in French and signed)
Address of origin
passport copy (both sides)
Signed form for declaring goods duty free
Proof of residence in Paris
Granted, some of the requirements may be different depending on your length of stay and legal status among other things.
If you meet the customs requirements, individuals you'll often be able to move to Paris with household goods and import them free of duties and taxes.
Paris at a Glance
Those relocating to Paris from the US will find that it's a very dense area; meaning that there are a lot of people in a generally small space.
As an example, Houston is about 60% larger but Paris has over 5 million more people living in it!
Although it may be crowded, transportation, eateries, markets and attractions among other things are more easily accessible.
Communes and Neighborhoods
When moving to Paris, knowing where you are going to be living and in which administrative commune will help in relation to registering as well as taking advantage of the public services.
Their communes, also called arrondissements, include 20 distinct districts. Fortunately for someone relocating here, the zones are referred to by their actual numbers which makes it slightly easier to remember.
There is a lot of information available to learn more about the city, but for moving your household goods to Paris, take advantage of our international moving service. You'll save time and energy.
How Much Does Moving to Paris Cost?
One of the first questions people ask is how much does moving to Paris cost. In this case, we create a custom price for each shipment. This is because the price depends on each persons particular move. Factors that affect this are the volume of goods and their location in the USA. Once we have this, we'll be able to start a quote for your move to Paris.
Find out your costs today and request a free moving quote!
SCL Paris Mover Reviews