Shipping a car to Austria involves the same required steps as shipping to many other EU countries in terms of the preparation and documentation. Additionally, due to its geographic location you will have a few choices which port of entry to use and we will always recommend the best option for your particular shipment. The reason being is that Austria is landlocked, so it does not have direct port access. However, as mentioned, anyone that wants to ship a car to Vienna or another destination in Austria will be able to choose from any European base port that they prefer.
Popular Destinations to Ship Cars in Austria
Vienna
Salzburg
Linz
Graz
Read our guide below and learn how to ship a car to Austria and start your international shipping today.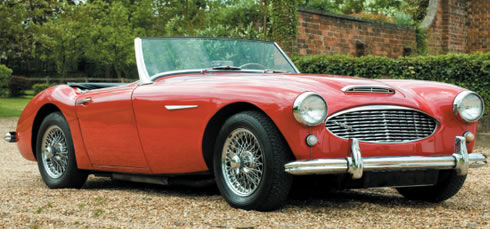 How to Ship a Car to Austria
Many people wonder how to ship a car to Austria, especially since it's a landlocked country. Most vehicle shipments are by sea and there are no ports to accept vehicles there. In this case, we ship the car to the port in Europe that has the best value then transport it to your door by land. Alternatively, you can pick your car up from the port, but most people prefer it delivered to their doors to save the hassle of driving.
Ways to Transport Your Vehicle to Austria
There are two practical ways of shipping a car to Austria from the US. The first uses an ocean cargo container and the other uses the roll-on roll-off system.
Container Shipping Service
For the first method, clients will have the option of purchasing their own container or using our consolidation car shipping service.
With a personal container, your vehicles will ship as soon as they are ready to go. On the other hand, consolidations need time to prepare all the vehicles in the container. The time required to consolidate may take slightly longer, but you save money by only paying for the space you use. Since car shipping to Austria requires transshipment, the car can be loaded with any container heading to Europe.
RoRo Service
With Ro-Ro service, your car will be departing from the east coast. Most likely Baltimore, as this port offers the best options for Ro-Ro. Cars are driven into the hull of large ocean liners and then secured and braced. Items cannot be loaded inside of the vehicle and
Best Way to Ship a Car to Austria
Consolidated container shipping is the option of choice because of our extensive experience and great rates. This service is generally 100's of dollars less than personal container and RoRo services. It offers the protection of a container and the ability to load items as well. The con is that the cars won't leave until the container is ready to ship.
A third alternative way to ship a car to Austria is through our air freight service. Using air freight is much more expensive, but is the fastest way to ship internationally. If you need your car in Austria ASAP and money is not a factor, air freight would be the service to use.
How Much Does Shipping a Car to Austria Cost?
The cost to ship a car to Austria depends on many factors. Some of these factors include the vehicle type, origin/destination, ocean rates, service ordered, etc. An example is shipping a car to Austria from California will have a different price than shipping from New York, all things the same. Since the price has so many factors, we have our representatives create custom quotes for each shipment.
Fill out our Online Quote Form to get a custom quote for your shipment
How Long Does it Take to Ship a Car to Austria?
Generally, the time it takes to ship a car from the US to Austria is roughly 6-8 weeks. This number can change depending on the shipping method, whether you want a door-to-door vs. door-to-port service, and a few other variables.
Among other things, considering where your car is located, you'll either be able to deliver the automobile to our warehouse in New Jersey, California, Texas, Georgia, or Florida. Alternatively, we can arrange to have it picked up at your residence anywhere in the country.
This will also dictate the overall duration of the shipment. Once it arrives at our warehouse we perform a full inspection, issue a dock receipt and make sure the car is ready for transport.
Customs Guidelines
To ship a car to Austria, you may or may not be subject to customs fees or duties. It's important to always check with the local authorities as policies can change.
As a basic note, you won't have to pay duties and fees for your vehicle if you meet the following requirements:
The car you are shipping to Austria has more than 600 km (372 mi) and you have owned it for more than six months.
You need to have lived in your current residence, ie. country, for more than a year.
You are bringing the car for personal use.
It's very important that anyone considering shipping a car apply for a Grundlagenbescheid through the customs office in Vienna prior to actually transporting the car.
More Info
Start your car shipping to Austria and fill our our Online Quote Form today!
For more information regarding an international shipment, please call one of our representatives at:
USA 562-408-6677 // Toll Free 800-599-0190
SCL Austria Car Shipping Reviews