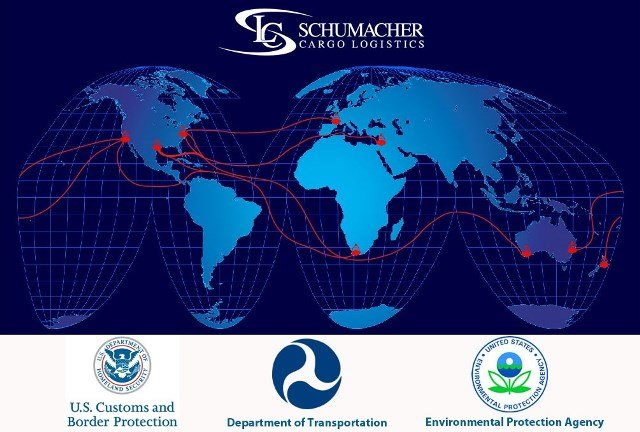 Each year, our team of international vehicle importers ship cars to the USA from Europe, Australia, the Middle East, Asia, and many other countries around the world.
Other types of vehicles include classic autos, trucks, motorcycles, motor homes, RVs, boats, agricultural/industrial vehicles and many others.
Our team understands the detailed process of importing cars to the USA and knows how to handle a variety of different types of imports. As a premier vehicle importer in the USA, we can complete door to door shipments to anywhere in the domestic United States.
Schumacher's import specialists will guide you through the entire process and help determine which category of vehicle import your shipment belongs to based on the intent of your stay.
To start your vehicle import into the USA, fill out the quote request at the top of the page and read the guide below.
How to Import a Car or Other Vehicle
When importing a car into the USA it is important to know the eligibility of the vehicle. Actually shipping a car to the USA is simple, but should only be done if it qualifies.
As a very straightforward guideline, when you are looking for an auto import specialist, they should inform you that the vehicle must be:
US specifications (engine) or
25 years or older if it is not made to US specifications or
Imported temporarily, for less than 12 months
Whether or not a vehicle qualifies to be imported depends on the engine. That is why the import requirements apply to boat imports, cars, motorcycles, RVs and most other vehicles. The process for importing a motorcycle into the USA will be very similar to importing a car. As long as there is an engine, the import process is very strict.
If you don't pass those requirements, your car, truck, or motorcycle simply cannot be imported without special approval from the import authorities. You will first need to fill out an application with the DOT and EPA.
If you do receive the special import approval, you will need to convert your vehicle. Oftenly this makes importing vehicles much more expensive and impractical.
Permanently vs Temporarily Importing a Vehicle into the USA
Examples of the different categories of imports include permanent imports and temporary imports.
To permanently import a vehicle to the US, you either have to be a U.S. company, citizen or hold legal status to work and live in the country.
Check your vehicle's permanent import eligibility with our easy auto import tool.
When importing vehicle temporarily, the automobile does not have to conform to US standards. However the vehicle must leave the country within a year.
The following are all classified as temporary imports:
Race
Display
Repair
Leisure
Vacation
Exhibition
Events
Documentation for US Vehicle Imports
The documentation necessary for all car imports into the United States:
Original bill of lading
Bill of sale
Foreign registration
Visit our page on the guidelines for importing cars to the USA to find information on nonconforming vehicles, applications and approved/disapproved vehicle lists or fill out our online quote form to get a rate from a fully licensed and bonded international vehicle importer!
How Much Does it Cost To Import a Car in the USA
The cost to import a car depends on many factors that add up to the total price. Factors such as the vehicle specifications, origin/destination, and shipping type all affect the cost to import. An example is a car import from Europe will be different in cost than an import from Asia for the same destination. For this reason, our auto import representatives create custom quotes for each shipment.
To get the cost to import your car, fill out our Online Quote Form today!
USA Car Import Authorities
The following is a list of the government authorities that car importers are involved with and to whose standards each and every vehicle must comply. We've supplied their contact information below.
Department of Transportation (DOT)
1200 New Jersey Avenue, SE
Washington, DC 20590
(855) 368-4200
Environmental Protection Authority (EPA)
1200 Pennsylvania Avenue, N.W.
Washington, DC 20460
(202) 272-0167
Customs and Border Protection Agency
1300 Pennsylvania Avenue, N.W.
Washington, D.C. 20229
(877) 227-5511 or (202) 325-8000 for international calls
SCL Car Importer Reviews