Currently Schumacher has no Domestic Service to Hawaii, Only Shipping to and from Hawaii and Overseas is Available
So you have decided to move to Hawaii and are debating transporting your vehicle across the Pacific. In this case, shipping a car to Hawaii from the mainland, or vice versa, can be a better alternative to renting or buying again.
Fortunately, our company has moved all types of vehicles to and from the Hawaiian Islands for more than fourty years. Since 1977, we continually strive to improve our transport services for clients and remain an industry leader.
Read our page below on how to ship a car to Hawaii and start your shipment today!
Auto Transport Services to Hawaii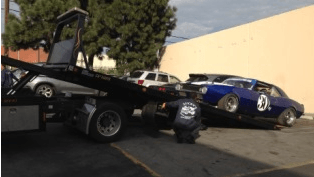 Using our auto transport services to Hawaii, all running, drivable cars are shipped via Roll on Roll Off service.
**NO Items are allowed inside the vehicle when shipping RoRo to Hawaii
The selection for departure and arrival ports when shipping cars to the Hawaiian Islands are very specific with a slight variation in the process between international vehicle shipments and those from/to the mainland.
For all vehicles such as large trucks and oversized freight, we ask that you please call and speak to a representative so they can give you the best solution and method of transport for your items across the Pacific.
Additionally, we offer free enclosed storage for automobiles prior to the shipment, as well as condition reports and images if they are first delivered to our warehouse in Los Angeles.
Below, we've listed the port information as well as estimated transit times when shipping a car to Hawaii.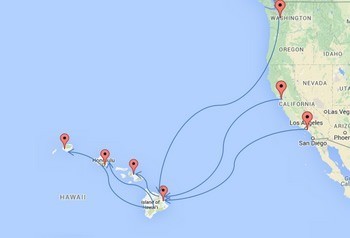 Ports in the continental United States – West Coast to Hawaii
Long Beach, CA
Oakland, CA
Tacoma, WA
As part of our Hawaii car shipping services, we offer mainland pickup and transport to our warehouse if you are looking for a door to port service. We know that not everyone will live close enough to the departure locations to be able to drop the vehicle off, but those that would like to deliver the car in person can do so as well.
Ports We Service in Hawaii
Honolulu – Oahu
Hilo – Big Island
Kawaihae – Big Island
Kahului – Maui
Nawiliwili – Kauai
How Much Does Shipping a Car to Hawaii Cost
The costs to ship a car to Hawaii will range depending on your vehicle's size, departure port and whether you ship to Honolulu, Hilo or another Hawaiian port. However, our rates are always competitive for the Hawaiian market. Since rates change frequently, our representatives create custom quotes for each shipment.
Get your free custom quote for car shipping to Hawaii with our Online Form
Transit Times
Shipping a car to or from Honolulu:
It generally takes roughly 1.5 weeks from the time at which you drop off your vehicle at one of the west coast port locations.
This assumes that we receive all the necessary documents up front, the car is ready for departure, and it matches the RoRo vessel schedule.
Shipping to or from Kawaihae, Hilo, Kahului or Nawiliwili:
Assuming the same criteria as listed above, it takes 2.5 weeks from drop off at one of the west locations to or from the ports listed above.
Those relocating to Hawaii from New York or an east coast residence will first need to have their automobile transported to one of the ports on the west coast. So the entire process of moving a vehicle to Hawaii from the east coast is much longer.
However, the ocean transit will remain the same. Domestic transport from the East coast to the West coast can take 10-14 days.
Preparing to Ship a Car to/from Hawaii
Some of the recommendations may seem trivial but they are all absolutely necessary in order for the car to be shipped as quickly as possible without any delays.
Vehicle Condition
First, do not fill your tank. This is quite common as clients may have the urge to save money, as gas is more expensive in Hawaii, and fill up pre-departure but we require that your tank be no more than 1/4 full.
You'll also need to either disconnect your alarm system or the entire battery before your car is loaded.
Packing Additional Items
Unfortunately, those moving to Hawaii cannot ship household goods or pack additional personal belongings or boxes inside the vehicle including the trunk.
Drop Off
All legal owners on the registration or title must be present at drop off. If there are multiple legal owners, they must come with the vehicle. In the scenario that one cannot be there, then he/she must provide a notarized letter stating that they authorize the shipment.
Delays
In some cases, vehicles may depart on a ship that is leaving later that the original sail date. Factors such as weather and unforeseen issues are out of our control so any dates are just estimates.
Auto Information
Additionally, for accuracy in our inspections reports, clean the car prior to delivery at our warehouse.
This is even more vital when shipping a vehicle from Hawaii to Tacoma, Washington. In this case, environmental and agricultural rules are stringent with soil and dirt from outside the state.
If you have any questions for car shipping to Hawaii, or from, please contact us today.
Request a Free Hawaii Car Shipping Quote at the Top of the Page or Use our Online Form!
Other Services
For more information on international shipping to or from Hawaii, read our International Car Shipping Page.
SCL Ratings for Hawaii Car Shipper