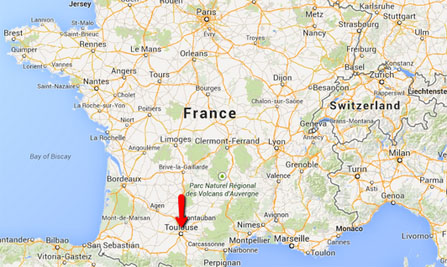 Whether you are moving back to Toulouse from the U.S. or relocating here with your family as part of a company removal, Schumacher Cargo has been shipping household goods to Toulouse for over 40 years.
Those moving to Toulouse and shipping household goods via containerized shipments will have their goods enter France by way of either the port of Le Havre or Marseille.
*Schumacher Cargo's locations in the US include Los Angeles, Houston, New York, Savannah and Miami.
From one of these ports, your effects will be moved either directly from the port to your door or will be delivered from our agent's unloading warehouse to your residence.
Distance from Ports
If you elect to pick up your belongings from Le Havre or Marseille the distance and time will vary. From the port of Le Havre, it is approximately 835 km via the A20. That's over an 8 hour drive!
Marseille to Toulouse is a much more feasible commute although we still recommend having your goods professionally delivered and unloaded. It's a 3 to 4 hour drive using the A9 and A61.
---
Where to Register
The first thing that you want to check off the list after arriving is to register locally if you haven't already done so and it needs to be done within two months of arriving.
It's not only a legal requirement, but you won't be able to open up a French bank account and perform other tasks without having your residency card, or cartes de sejour.
You will want to set aside an adequate amount of time as the process is full of paperwork and the documents must be in French.
Because of this, it may be worthwhile to hire a translator to go with you to the municipal registry office unless you speak French or your company assisting if the latter applies to your move.
The nearest foreigners office is:
Prefecture de la Haute Garonne
1 Place Saint-Etienne 31038
Toulouse, France
+33 5 34 45 34 45
---
4 Interesting Facts about Toulouse
It's the fourth largest city in France and is also known as for it's small town feel ironically.
A lot of the city has been rebuilt and modernized however there is also a fairly substantial amount of the roads, alleys and districts that date back centuries.
The famous concord jet was built in Toulouse and the city is also France's main city for the Aerospace industry.
It's home to the headquarter of Airbus!
---
Public Transportation
Finding ones way around Toulouse can be done using a variety of forms of public transport including the metro, trams and an extensive network of buses.
In total there are two metro lines, one primary tram line and over 80 bus services. Chances are that if you're moving to Toulouse from the US, you'll be arriving before your shipment at the airport.
The quickest way to get to the city center is using the airport's shuttle service and it's also the best way to reach the central train station.
Contact Schumacher Cargo to start your relocation process and get a free moving quote. You will get a competitive rate to move all your household goods!
For further information on any of above, call and discuss your move with one of our Moving Specialists at: 800 599-0190 // 562 408-6677