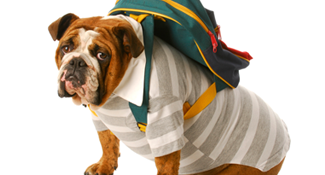 Attention: The following information should be used as a general guideline. Requirements for each country can change frequently so make sure to contact the proper authorities before you travel to France with a pet.
Pet Travel Requirements for France
All pets entering France, and the rest of the EU, require valid identification and documentation. So before moving overseas to France with animals, make sure you have met all requirements.
This will not only avoid having your dog or cat sent back home on arrival, but it will also cut the quarantine time (if needed) drastically.
Identification
As with most cases of pet travel, France requires all pets and animals entering the country to have a valid microchip implanted for identification purposes.
If you already had your pet tattooed, it will not be enough for the inspections waiting in France unless the identification tattoo was made prior to July of 2011.
Additionally, if the microchip is not ISO Standard 11784 or 11785 compliant, then you will need to have your own scanner attached to your pet's container.
Rules for Your Pet's Health
All pets entering France must have been vaccinated for rabies. It's important that this happens after the micro-chipping; otherwise it will need to be redone. Cats and dogs will also have different vaccinations.
Make sure the initial rabies vaccination is done at least 30 days before arrival and by an accredited/approved vet. If this isn't the case, the vaccination will not be valid.

Dogs specifically must be tested for tapeworm and ticks within 10 days of travel to France

Treatment for both internal and external parasites needs to be done
You will also need an official vet health certificate for the France (it's the same for the EU). Make sure you don't ask your vet for this too early, as it's only valid for 10 days before your pet arrives in France.
Getting USDA Endorsement for Your Pet
You will not be able to bring your pet into France without first applying for USDA approval. In order to receive this, you must supply them with the following forms.
Rabies certificate

Vet letter

EU vet health certificate

Record showing microchip has been implanted
After you have taken preparations, give yourself time to get this approval as it could take some time.
Types of Breeds Not Allowed into France
There a few types of breeds of dogs not eligible for travel in France. They include the Pitbull, Boerbull, Mastiff breed, Tosa breed and a few others.
In the case that your dog has a pedigree or birth certificate, it may be eligible.
Written by Damien Shields