Need to ship a car to Switzerland? Schumacher Cargo Logistics has been a leader in car shipping to Switzerland since 1977. With over 40 years of experience, you can be sure your shipment is in good hands.
Read our guide on how to ship a car to Switzerland below and start your shipment today!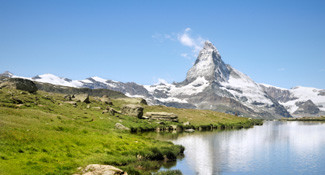 How to Ship a Car to Switzerland
Many people wonder how to ship a car to Switzerland. Especially since the country is inland and not near any major ports in Europe. In this case, we ship one of the major European ports then truck it to your destination in Switzerland. Generally, the port is Antwerp and then it is trucked from there to Switzerland. We choose this port because it has the best rates and transit times. You can also choose to send it to a different port if you would like to pick it up yourself and drive it into Switzerland.
There are many questions that come up before you ship your vehicle abroad. You first have to determine which regulations and classifications apply to your personal situation. Switzerland, for example, makes the distinction between undeclared vehicles, meaning essentially the vehicle has no prior registration and has not been taxed, vehicles for temporary use, and relocation to Switzerland from a foreign country.
How Much Does Shipping A Car To Switzerland Cost
When shipping a car to Switzerland, the price is based on many different factors. Some of these are the vehicle make/model, origin in the US, and services used. In this case, a car shipment to Switzerland from California will have a different price than from New York even with everything the same. For this reason, our representatives create custom quotes for each shipment.
Get your free custom quote by filling out our Online Form at the top of the page
Different Scenarios When Importing Your Car in Switzerland
On the other side, there are a few different scenarios when importing a car to Switzerland. These will dictate the type of import and what duties and taxes you may be liable for.
Instance 1:
You must declare your vehicle the first chance you get with customs and only in person. You will be liable for customs duties as well as the VAT.
All vehicles imported or driven across the border are subject to a technical test.
Instance 2:
Temporary visitors with residence abroad can operate their vehicle without paying import duties. After filling out the documentation, Form 15.30, submit a single permit. It is applicable to foreign employees, students and interns and lasts for two years.
Instance 3:
If one is moving to Switzerland, the car will be duty free if it was used for at least 6 months abroad under your ownership.
Registering the vehicle is required after customs in the canton where you have declared residence.
For more information, please visit the Swiss Customs Administration website.
How Swiss Duties are Calculated for Motor Vehicles
Rates are the same for used and new cars
Depending on weight and motor size, rates can range from 12 to 15 CHF per 100kg or 220Lbs. (applies to motorcycles shipped into Switzerland as well)
VAT is 8%, based upon an assessment of the value of the car
Currency is converted into Swiss Francs and duties are payable in cash upon entry
3 Car Related Facts About Switzerland
It was once illegal to slam your car door
Every car with snow tires must have a sticker that reminds the driver not to drive faster than 160 km/h with the tires on
There is a fine for leaving the keys in your unlocked car.
Additional Resources for Car Shipping to Switzerland
Since 1977, Schumacher Cargo Logistics has offered premier car shipping to Portugal from anywhere in the USA. With over 40 years of experience we have developed the processes and services to make sure your shipment goes as planned.
Fill out our Online Quote Form and start your move overseas today!
For any other questions on a move, destination services, or locations, call one of our shipping specialists:
US 562-408-6677 // Toll Free 800-599-0190
SCL Switzerland Car Shipping Reviews