International Moving Services to Norway from the U.S.
Moving to Norway from the USA has become more popular as the Scandinavian countries grow in appeal to American expats. Norway is one of the three more northern Scandinavian countries and has one of the biggest ports in Europe in Bergen. Their economy has grown to the 4th largest in the world and offer opportunities for a different life than in the US,
For the past 40 years Schumacher's services have made thousands of relocations to Norway possible for individuals, families and businesses alike. With our experience, we have streamlined the international moving process. This has allowed us to deliver the best value for our customers to destinations worldwide.
Read our guide below on how to move to Norway from the US and start your international move today!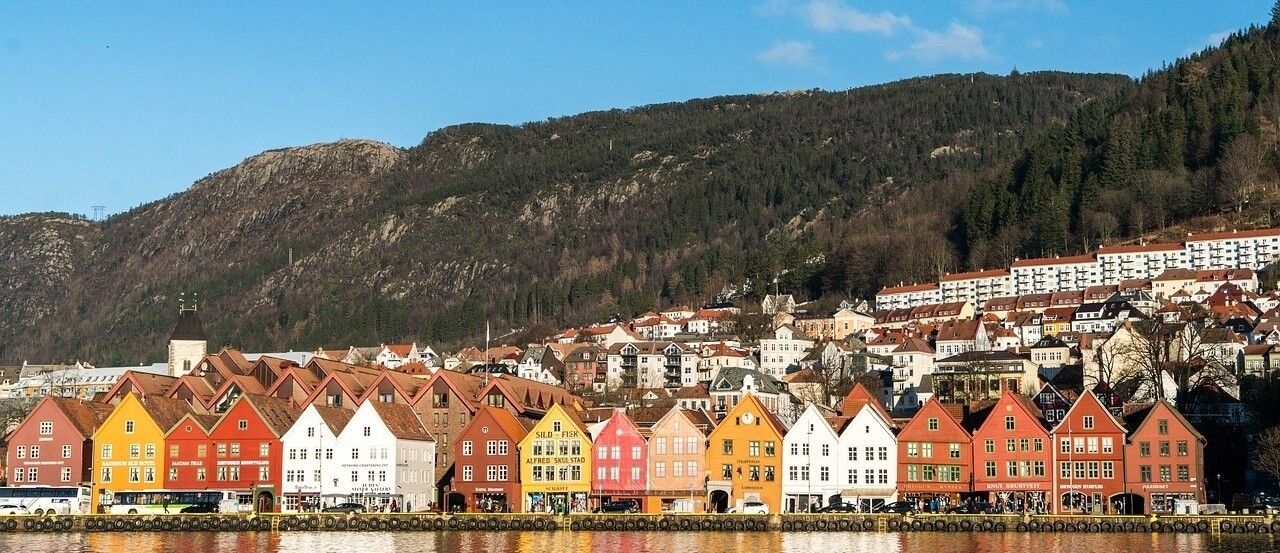 How to Move to Norway from the US
There are a lot of opportunities as an American moving to Norway from the US. These opportunities increase the amount of American expats in the country. With so many people thinking about coming here, we compiled a guide to help people with how to move to Norway. In the next couple sections we will cover the shipping methods for household goods moves to Norway, customs and touch on tax information.
Service Options, Departures, and Arrivals
Containers are our recommended choice for personal effects relocations. We offer very competitive rates for consolidations of goods with other shipments.
This not only adds an extra layer of protection inside the container but it is cheaper than air freight or purchasing your own. However, we can ship individual containers just as easily.
Those moving household goods to Norway using our international relocation services will most likely have their shipment enter through Bergen but Oslo is also a possibility.
Norway Moving Services Include:
Door to Door full service moves
Enclosed storage
Packing and wrapping
Pickup and delivery to the warehouse/port from anywhere in the USA
Customs clearance and documentation
Surveys for accurate quotes of your volume
Flexible options to fit your budget and timeline
Major Cities We Depart from in the US
Schumacher Cargo Logistics has major port warehouses in 5 US locations:
Los Angeles, Houston, Miami, Savannah and New York/New Jersey
With these no matter where you live in the US, we can easily pick up and take your goods to the nearest port.
Major Cities in Norway to Receive Household Goods
No matter where you want to move to Norway, we can deliver it straight to your door. Whether you move to Oslo or Sarpsborg, SCL can handle your door to door move.
Below are just a few of the most popular cities we ship to in Norway:
| | | |
| --- | --- | --- |
| Oslo | Fredrikstad | Bergen |
| Kristiansand | Trondheim | Sandnes |
| Stavanger | Tromsø | Drammen |
| Sarpsborg | | |
Moving from the US to Norway with Personal Effects
How Much Does Moving to Norway from USA Cost?
The cost for moving to Norway from the USA depends on a few different details. Some factors that change the price are volume of goods, origin/destination, and service selected. For example, a move to Norway from LA would have a different price than a move to Norway from NY even with everything the same. With this in mind, our international move representatives create custom quotes for all inquiries.
To get a custom quote for your move, fill out our Online Quote Form
How Long Does Moving to Norway from the USA Take?
There are plenty of variables that affect the overall amount of time your move will take. In most cases, sail times, meaning time on the water from the east coast to Norway will be around three weeks. From the west coast it is usually 30 days to all base ports. Generally from door to door, moving to Norway takes about 6-8 weeks, but there are shipments that are shorter or longer.
As international movers, we do everything that we can to meet estimates but these should serve as a guide rather than exact times.
Information Regarding Your New Home in Norway
Oil is Norway's largest Industry
Oslo is the capital with about 515,000 people
Average home size is 121 Square Meters
Foreign person wishing to reside in Norway must have a valid entry VISA
Population of about 5 Million
The currency is the Kroner (NOK)
VAT for 2019 is 25%
Useful Tax Information:
For those moving to Norway, the country like several other Nordic Countries adopted a dual income Tax. Under the dual income tax, income from labor and pensions is taxed at progressive rates, while capital income is taxed at a flat rate.
Customs Regulations for Household Goods
Those moving to Norway MUST be prepared to present customs with the proper importation declaration forms. The one you'll need for clearance is RD0030.
Regardless of whether you qualify for duty free import, everyone needs this form filled out. We recommend giving your shipper a detailed inventory list. It will speed up the process and be sure to state if something is new or used.
In order to be exempt, individuals must of had residence outside of Norway for more than a year, it must have been continuous with no breaks, the personal goods are used and have been owned by you with no intention of selling or dispersing them after they're imported.
For more information on special import rules and customs in Norway, visit the Toll.no site.
Employees and Self-employed Social Security Contributions
The amount contributed to social security is derived from one's "personal income". This income anything earned due to active efforts whether personal or from a business. Generally though, capital income is not included and there's also no tax deducted from labor income.
Additional tax rates are as follows:
Pension income is | 3% |
Wage income is | 7.8% |
Business income | 11% |
| | |
| --- | --- |
| Lower threshold for payment of employee's social security contribution | NOK 39 600 |
| Leveling rate | 25.0 % |
| Wage income | 7.8 % |
| Income from self-employment in primary sector | 7.8 % |
| Income from other self-employment | 11.0 % |
| Pension income, etc. | 4.7 % |
Pet Transportation Advice for Norway
Import permit is required from the Norwegian Pet Health Authority or local embassy prior to bringing your pet into Norway.
Pets must be Tapeworm treated a maximum of 10 days before arriving in Norway
Signed veterinary certificate by a certified veterinarian must be provided for each pet
More Norway Moving Info
Fill out our Online Quote Form and start moving to Norway today!
For further information on any of above, call and discuss your move with one of our Moving Specialists at:
Toll-free 800 599-0190 // US 562 408-6677
SCL Norway Movers Reviews