New York and New Jersey Receiving Terminal
Schumacher Cargo Logistics New Jersey Warehouse  
1027 Newark Avenue
Elizabeth,
NJ 07208
(908) 469-4444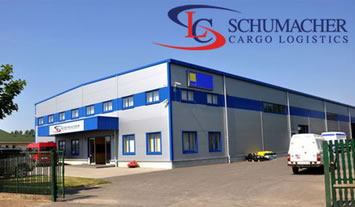 For over 40 years we've been in the business of providing a stress free international shipping experience to our clients relocating overseas or shipping vehicles from New Jersey, New York, and the entire Northeast.
Read about the shipping services we offer from our New Jersey warehouse and start your international shipment today!
Moving Your Effects Overseas
Thanks to our established relationships and worldwide network, we're able to offer some of the best consolidation and direct service rates in the industry. As well, thanks to our dedicated staff, we've become one of the largest privately owned overseas car shipping companies and international movers in New Jersey and New York.
Whether you are looking for a reliable company to ship your vehicle, household goods, equipment, or any other type of cargo, you'll find everything you need to stay within budget without sacrificing great service.
Our Relocation Services
We've been in this business a long time and our goal has always been to provide a seamless shipping experience that caters to a variety of our clients' needs. From New York, we have direct services to more than 80 worldwide destinations for almost any type of cargo with our main markets being Europe, Australia, New Zealand, Asia, and the Middle East.
Our primary relocation services include shipping for household goods, cars, motorcycles, oversized cargo, as well as boats and yachts. With a highly qualified team to handle customs clearance at the Port of New Jersey and New York, you'll have everything you need to get moving.
Overview of Services
Offer pickup locally, statewide, and nationally
Packing for household moves
Loading services
US customs clearance
Worldwide network for overseas clearance
Enclosed storage prior to departure
Reputable International Shipping Companies

We've spent the last 40 years as a shipper dedicating ourselves to providing a seamless experience that caters to a range of needs. For those moving household goods or automobiles from the East Coast. With our experience and memberships, you know your shipments are in good hands.
NJ/NY Shipping Services Include
Vehicle Export
Household Goods Export
Motorcycle Shipping
Boat and Yacht Shipping
Air Freight Services
Household Goods Import
Vehicle Import
Our east coast office is located in Elizabeth across the harbor from New York City. It is also 6 minutes away from Newark Liberty International Airport. So whether your shipment is arriving or departing, transport to and from the ports, as well as to the airport, is quick and painless.
Hours of operation: Mon-Fri 7:00 am to 5:00 pm daily
Warehouse receiving times: Mon-Fri 8:00 am to 4.30 pm daily
How Much Does Intentional Shipping Cost From New Jersey
Different factors affect the price of shipping from the Schumacher New Jersey warehouse. For example the type of good, origin, and destination all play a part. In this case our representatives create custom quotes for every shipment.
To find out how much it will cost to ship your items/vehicles overseas from New York, please fill out the our online quote form.
If you would prefer to call one of our professionals to talk about your shipping needs, then please call today at (908) 469-4444
More Shipping Info
SCL New Jersey International Shipping Reviews