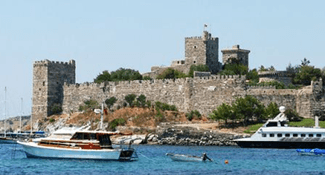 In line with the custom regulations of Turkey, the only way a foreigner can ship their car to the country and import it is if they are moving to Turkey for work, retirement, or education.
Should you fall into one of these categories, the next step would be to obtain an alien vehicles temporary entry card. Also referred to as a blue card, this will allow you to ship your car to Turkey permanently. The only place that you can get this special entry card is from the Turkish Touring and Automobile Union.
Once you find out you have authorization to import your car into Turkey, SCL can handle your shipment. With over 40 years of international shipping experience, we have shipped thousands of cars to and from turkey. To begin your shipment, fill out the quote request at the top of the page and read our guide below.
Obtaining Temporary Entry for Your Vehicle
To obtain the entry card, you need to first pay a fee and present the following documents:
Residence permit (for work, education or retirement purposes)

Your work permit (if you are a foreigner working in Turkey)
Foreign retirees need a document indicating the amount of their retirement pension
For students, a certificate from their school

Passport and a photocopy
Valid driving license and photocopy
Proof of ownership (registration documents, purchase invoice)
Proof of insurance valid in Turkey
After the temporary entry card is issued for the imported vehicle, you must take it to the customs office to pay the fee. In addition, if you are registering the vehicle you have to go to the Turkish Traffic Department Directorate in the specific province that you received residence.
Customs Tax on Cars Shipped to Turkey
The customs fee for cars depends on the vehicle's engine size and age. Whether you are obtaining temporary status or applying for a residence permit also affects the taxes.
Important Deadlines for Auto Shipping to Turkey
For those adhering to the temporary entry card status, the foreign plated vehicle can only be used in Turkey for a duration of 6 months in a 12 month period.
Once the time is up, the car must leave Turkey for a minimum of 6 months before the process can be repeated. The maximum amount of time this can be done is two. Under certain circumstance, those with a retirement visa can bring their car into Turkey for up to one year before the vehicle must leave.
Additional Car Shipping to Turkey Information
To start shipping your car to Turkey, fill out our online quote form at the top of the page. After you complete the form, our representatives begin working with the details of your vehicle shipment. They will gather all relevant information and send you your quote once they are done. You can then discuss all the particular details with them and get your shipment on its way to Turkey.
For further information on any of above service options, please call and discuss your shipping needs with one of our Car Shipping Specialists at:
US Tel: 800 599-0190 // 562 408-6677
Turkish Touring and Automobile Union
International Car Shipping Reviews