If you're looking to ship a car to Norway from the USA, it's a fairly straightforward process. We'll work with you to make sure that you have all the documentation, give yourself enough time, and ensure that your car is eligible for shipping. Fill out the quote form at the top of this page to begin and read below for more info on shipping a car to Norway.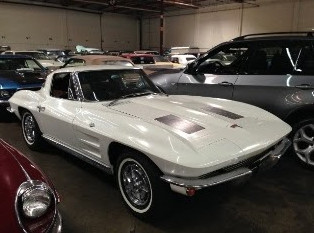 How to Ship a Car to Norway from the USA
The process for how to ship a car is straightforward with the right information. We'll work with you on the steps to take your vehicle shipment to Norway from start to finish.
How Much Does Shipping a Car to Norway Cost?
Where most people begin their Norway car shipment is to figuring out the price. How much the cost is to ship a car to Norway depends on different factors such as the vehicle details, origin, and destination. For example, a shipping a car to Norway from California will have a very different price than departing from New York. Since there is this variation, our representatives create custom quotes for each shipment.
For the cost to ship your car, fill out our Online Quote Form. Once you begin working with your representative, they can give you any other shipping information you may need.
The Main Car Shipping Options to Norway
Regarding the actual process, you will have a few options when it comes to shipping your vehicle internationally. Each of the methods vary in terms of the overall costs, availability and estimated shipping time frames.
Shipping a Car via Container
Roll On Roll Off
Air Freight
Containerized Transport to Norway
Moving your vehicle with this option is recommended as it adds extra protection during transit. Additionally, those moving to Norway can use the extra space for household goods. Furthermore, with our car shipping services, we have options for both shared and sole use containers. Shared containers offer the best value since you split costs with other customers and still have the protection of a container.
Roll On Roll Off Car Shipping to Oslo
RO/RO is also an option when considering larger vehicles and oversized trucks. The only port for this method of car shipping to Norway is Oslo. In this case, you car is shipped from the East Coast to Oslo. From Oslo, your vehicle can be moved by land to whatever destination you need.
If you are interested in this particular service and would like more information. Once one of our representatives is working on your quote, they can advise whether this service may be the best way to service your shipment.
US Departures
New York
Savannah
Miami
Baltimore
Air Freight Car Shipping to Norway
Air freight to Norway is the fastest way to ship a vehicle, though with this speed does also come increased cost. This option is generally only used when price is not a factor and speed is the only thing that matters. For means for the most part this service is used for shows, events, and races. With air freight, we move your vehicle to the nearest airport that accepts vehicle freight and ship it to the nearest airport to your destination in Norway.
Know Before Shipping a Car to Norway
Norway requires that all vehicles entering meet the country's safety and emissions standards prior to your car being registered and driven in the country.
It's recommended that persons contact the Norwegian Public Roads Administration first to determine what mechanical requirements the vehicle will be subject to prior to registration
After arriving in the country, you have 1 to 3 days to report to the local Customs and Excise office
The NPRA requires inspection at one of its traffic services offices of all second-hand imported vehicles
VAT, Tax and Import Duties on Vehicles in Norway
When importing a car into Norway, there are a few different factors to consider. The value added tax for imported automobiles is 25%. The percentage is based on the customs value. This number is calculated as follows: Customs value = purchase price + freight costs + insurance costs to the Norwegian border.
There are certain scenarios which allow you to ship your car and not have to pay taxes or duties as long as your stay will be shorter than 1 year. For this, one of our representatives will advise on the different options to take when importing a car into Norway.
Visit the customs section on moving to Norway if you are planning a move while bringing a vehicle.
Interesting Facts About Norway
Norway prohibits cars advertised as environmentally friendly
The country has voted against membership in the EU several times, but has implemented more EU directives than any other EU member state
Even though the country is one of the top oil producers in the world, gas is more expensive than almost anywhere
Beware of vacationing in Norway during August. Shops and restaurant services almost come to a stop during this month as they are on vacation
Start Shipping a Car to Norway with Schumacher
Since 1977, Schumacher Cargo Logistics has offered the premier international car shipping service to Norway from anywhere in the USA. With over 40 years of experience we have developed the processes and services to remove the hassle from your shipment overseas.
Fill out our Online Quote Form and start your move overseas today!
For any other questions on a move, destination services, or locations, call one of our household goods shipping specialists:
US 562-408-6677 // Toll Free 800-599-0190
SCL Norway Car Shipping Reviews