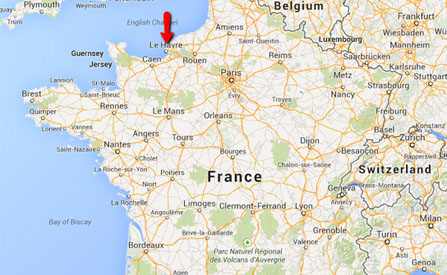 Relocating with Household Goods
Although not one of France's largest cities, Le Havre is home to the country's second biggest port just after Marseille and we have been helping individuals, businesses and families move to here for over 40 years.
For those moving household goods to Le Havre or other cities in the north of France, your shipment and personal effects will be directed through this port when using our international sole container shipping services.
*Schumacher Cargo's locations in the US include Los Angeles, Houston, New York, Savannah and Miami.
Once your shipment arrives, there are two things that could happen with regards to moving your household goods.
They will either be moved directly to your home from the port with the help of our assigned delivery crews or will be unloaded at our agent's warehouse and then delivered locally by truck or van to your door.
Because the port city is only 195.6 sq km(75.8 sq mi) it makes delivery of your belongings even easier for our team of agents.
If you have already become situated and decide that you'd rather pick up the goods from our agent's clearing warehouse, that can also be discussed with your specialist.
---
Which Part of Le Havre are You Moving to?
The city has changed a lot over the past half century and there are really three districts or areas that are composed of smaller neighborhoods.
Old Town Center
Danton
Saint-Vincent
Graville
Massillon
Southern Districts
Commercial Area
Port and Docks
Upper Town
Les Ormeaux
St. Cecilia
Bleville
Mont-Gaillard
It's also important to know that Le Havre is composed of nine individual cantons which is important when it comes to policy and politics.
---
Transportation
As mentioned, Le Havre isn't a very large city. It's rather accessible by foot and bicycles are also a common way to move around especially since new networks of bike paths were developed.
The city also has a very dense network of trams and busses which serve both the lower town and upper town as well as a newer service that runs to the port.
Its main train station is located just outside the city center to the east and serves as the central hub for the rest of the city.
The city does have a small airport but there are only services to a select few european destinations. So, if you are moving to Le Havre from the U.S. the closest international airport is Charles de Gaulle airport.
---
Schools and Universities
The University of Le Havre is located in the city's old town center district and was only founded in 1984.
It's a small institution and requires a certain level of French language skills for international students but it offers a local experience for international studies in the beautiful Normandy region.
In addition to the higher education the educational district which the city is located in features over numerous kindergartens and primary schools for those relocating with younger children.
Le Havre has a lot to offer and we'll be happy to orchestrate the entire move for you. So get your free household goods moving quote!
For further information on any of above, call and discuss your move with one of our Moving Specialists at: 800 599-0190 // 562 408-6677