IAM Boat Event Hosted by Schumacher Cargo – October 2015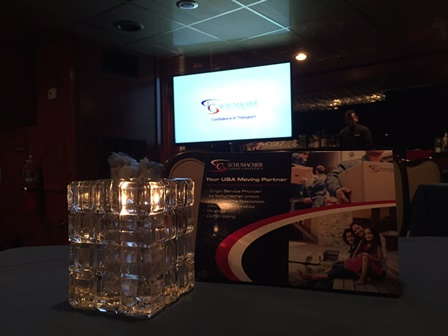 Another year has passed and we have just returned from the annual IAM meeting in San Diego and it was a huge success on many levels.
This is our time every year when we get to meet and greet our esteemed colleagues and agents from around the world.
Our discussion touches on what we did last year, and how we plan to do it bigger and better the following year.
Schumacher Cargo was in full attendance. We had all our main household goods people conducting meetings every day with our origin agents from overseas.
The event took place at the Hyatt Convention Center in downtown San Diego. The weather was wonderful and the atmosphere was great.
The event started on Sunday afternoon with a welcome reception from the IAM president, as people arrived from all across the globe to be part of this crucial gathering of the international moving industry's biggest players.
On Monday evening, seeing as we were hosting many of our agents on our home turf in Southern California, we invited all our business clients to join us aboard a yacht and enjoy a night of music and social entertainment on the calm and serene waters in San Diego Harbor.
We enjoyed great food, fine wine and creative conversation in an atmosphere that was truly enjoyed by all.
We would like to thank all our guests for contributing to such a successful evening and night.
Thank you as always for your continued support in business and friendship from the entire team at Schumacher Cargo!
FIDI/FAIM Membership – March 2015
We are proud to announce our new membership to the FIDI Organization and FAIM Service Standard Levels.
This certification accreditation gives our customers assurances they are dealing with a company that maintains the highest levels of customer services levels, at all times. Our company's commitment to abiding by FIDI and FAIM quality management levels, gives our customers, vendors and employees, comfort that Schumacher Cargo Logistics, Inc. is a quality organization to be part off.
Through hard work, commitment to our customers and dedicated employees, we are proud of this achievement.
Management – Schumacher Cargo Logistics, Inc.
Schumacher Secure uses "shipping magic" to deliver Barbados Sol Rally car before deadline
Schumacher Secure, a subsidiary of Schumacher Cargo Logistics, was selected as the car shipping company of choice for the Sol Rally Barbados.
This 2013 Sol Rally Barbados World Rally which featured competitors from 11 nations and 30 international entries are the largest annual motor sport event, celebrating its 50th anniversary just a few years ago.
One of the main challenges at this year's event was encountered by business man Michael O'Leary, who decided to enter his Mitsubishi Lancer Evo X in the Barbados Rally. Initially, the car was supposed to be shipped directly from New York to Barbados. Just a couple of days before the car shipping date, the transit time to Barbados changed. This left everyone wondering if the car would arrive in time for the rally. The Sol RB Rally employees started to look for last-minute options as soon as they heard the news.
Warren Barnes, the VP of Schumacher Cargo Logistics, took on the challenge of making the car shipment possible, despite the short notice. Through hard work and determination, he found a transporter and made sure that the delivery was timely. The car arrived the Port of Palm Beach right in time for the great Sol Rally Barbados event.
Schumacher Cargo delivers Formula E race car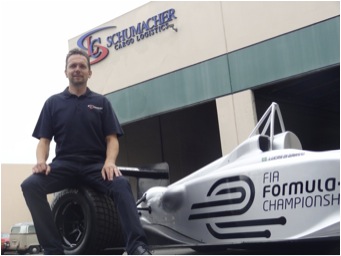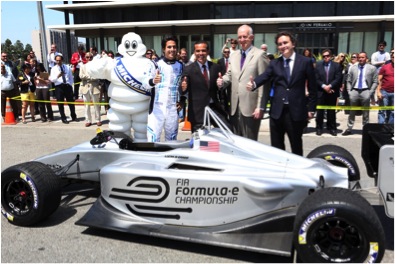 Schumacher Cargo along with our UK partners "Delivered on Time" are the car shipping companies of choice for the Formula E car.
Formula E is a single-seat electric-powered race car. Formula E hopes to demonstrate that electric cars are a good alternative to gas-powered vehicles by having famous race car drivers drive them.
Schumacher Cargo participated in the Los Angeles Formula E car demonstration which took place in Los Angeles on April 23, 2013.
Participants in this event included Schumacher Cargo Logistics' vice president Warren Barnes, Formula E fans, and Mayor Villaraigosa.
Los Angeles has been selected as one of the cities across the world to feature open-wheel races for the electric cars, also known as Formula E. The plan is to host these races globally, starting with Los Angeles in 2014.
Currently, only Los Angeles and Miami are open to hosting electric car races in the U.S. Other cities are in Europe, Brazil, Argentina, and Malaysia.
Villaraigosa explained that the Los Angeles race is paid in full by the investors of the Formula E car, so the city does not have any expenses.
Schumacher Cargo Logistics delivered the Formula E car to the Hollywood Sign on time and is looking forward to the future Formula E car events.
Schumacher Cargo Logistics announces sponsorship for Ferrari Club of America 50th Anniversary 2013 Event – February 4, 2013
Schumacher Cargo Logistics is proud to announce that it is the proud sponsor of the 50th Ferrari Club of America 2013 International Meet, to be held in Elkhart Lake, Wisconsin.
Schumacher Cargo Logistics's president Martin Baker and vice-president Warren Barnes will be present at the extended 6-day event which attracts Ferrari lovers from all around the country and world, as well as over 250 Ferrari specialty display cars.
The event, which includes a road rally, racetrack activities, vendor automobilia, seminars, receptions and a banquet, will take place from July 29 to August 4, 2013 and it is open to all members and sponsors.
Schumacher Cargo Logistics is the leader in the Classic Car Shipping industry, since 1977. President of Schumacher Cargo Logistics Mr. Martin Baker states "We ship thousands of classic cars each year worldwide and exceed the demands of our customers' expectations over and over again."
HURRICANE SANDY UPDATE # 3 – November 2, 2012 – Schumacher Cargo Logistics, Inc.
We are pleased to announce that the New York & New Jersey Ports Channels have now been completely inspected by the US Coastal Guard Authorities. NO major structural problems have been found.
Port clean up as well as electricity are the remaining issues left now. PSE&G the local electric company are saying that most power will be up and running today November 2, 2012.
US Custom Authorities will be using mobile units for the time being. This may cause delays but they are working on getting fully back to regular schedules also.
There will be continued Port delays regrading Import container releases as well as Export receiving containers for the next week. Ocean Lines are omitting the NY & NJ ports for there upcoming vessels. Most are being diverted to port Norfolk 350 Miles south of port NY & NJ. Containers will be truck loaded to and from Port Norfolk, to final destinations during this period.
All other Schumacher Cargo offices will be open for business as usual. Please call our shipping experts at 1-800-599-0190 / 562 408-6677 or by visiting www.schumachercargo.com.
At this time, Schumacher Cargo Logistics and all our employees, kindly Thank You for your patience and understanding during these times.
We appreciate your business. Customers like you make doing business a real pleasure.
Dear Schumacher Cargo Logistics Customers,
We know many of you are following the ongoing negotiations with ILA labor on the East/Gulf coast. Please find attached a news release today advising that the parties in those negotiations have agreed to extend the collective bargaining agreement due to expire on September 30, 2012 for 90 days through December 29, 2012.
NEWS RELEASE
FEDERAL MEDIATION AND CONCILIATION SERVICE
OFFICE OF PUBLIC AFFAIRS
WASHINGTON, D.C. 20427
Thursday, September 20, 2011
For Immediate Release
Web site: www.fmcs.gov
Contact: John Arnold
Director of Public Affairs
Phone: (202) 606-8100
Statement by FMCS Director George H. Cohen on United States Maritime Alliance and International Longshoremen's Association Labor Negotiations
WASHINGTON, D.C. — I am pleased to announce that at the close of today's productive negotiation session, in which progress was made on several important subjects, the parties have agreed to extend the collective bargaining agreement due to expire on September 30, 2012 for a ninety (90) day period, i.e. through December 29, 2012. In taking this significant step, the parties emphasized that they are doing so "for the good of the country" to avoid any interruption in interstate commerce.
This extension will provide the parties an opportunity to focus on the outstanding core issues in a deliberate manner apart from the pressure of an immediate deadline. The negotiations on the Master Agreement will be conducted during the same time frame as negotiations for local agreements. The negotiations will continue under the auspices of the FMCS. Due to the sensitive nature of these high profile negotiations, we will have no further comment on the schedule for the negotiations, their location, or the substance of what takes place during those negotiations.
Industry Leading Innovation at Schumacher Cargo Logistics Los Angeles, California – June 14, 2012
We are proud to announce the integration of our computer systems with Moveware Software.
Schumacher Cargo Logistics is now able to receive Import Shipment details from our Moveware business partners around the world, using Moveware software. 1 single click, your complete file is automatically imported electronically into Schumacher Cargo Logistics software systems to create:
Manifests
Master Bill of Lading
House Bill of Ladings
Whether sending a single FCL shipment, or a Consolidated Container with 25 shipments inside, USA Destination services has never been easier for Moveware Clients working with, Schumacher Cargo Logistics.
Key Benefits of integration for Moveware Clients
Electronically receive relocation & shipment details
Send and receive attachments including documents such as inventory lists and photos
Receive data directly to our system
Save time with data entry
Improved data accuracy
Complete round trip messaging to ensure data is received
About Moveware
Moveware provides management and shipping documentation solutions for relocation companies & transport companies, including software, database integration and home surveys solutions.
For more information on how our process works, please contact our import department at USA 562 408-6677.
If you want to receive monthly emails and updates on our rates and tariffs please reply to [email protected].
AES NEW REGULATIONS ALL USA EXPORTS
Effective Date: December 3, 2009
Per US Foreign Trade Regulations (FTR) Social Security Numbers (SSN) will not be accepted as a valid ID as of December 3, 2009. EIN numbers can be obtained by PRESSING THIS LINK and clicking "Begin Application" or call Toll Free: 800 829-4933 to talk with an IRS representative.
Summary changes to come into effect for all USA export shipments on December 3, 2009.
Foreign residents or overseas clients can use their foreign Passport Numbers.
US Companies must use their TAX ID Number.
Private party US Citizens will need to apply for an EIN number via above IRS link.
FOR FURTHER ASSISTANCE PLEASE CONSULT YOUR SCHUMACHER CARGO LOGISTICS REPRESENTATIVE or VISIT AES DIRECT U.S. GOVERNMENT WEB SITE AT: AES DIRECT