Enclosed Auto Transport for Cars and Motorcycles
Keep your car or motorcycle protected during shipping with enclosed auto transport at Schumacher Cargo. Since 1977, Schumacher has been the premier shipper of vehicles from domestic vehicle shipments to international car shipping.
When shipping luxury vehicles, classic cars, exotic cars, race cars and more, Schumacher Cargo's safe and reliable, enclosed auto transport service is here for you.
Get a free quote using the form below, or call us now at 800-599-0190 to get started.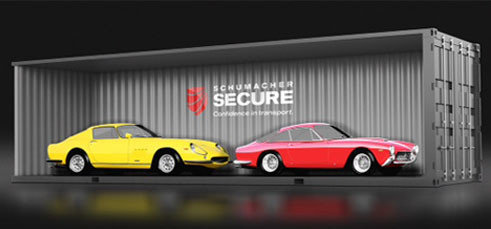 What is Enclosed Auto Transport
Enclosed auto transport is the process of transporting a car, motorcycle, boat, or other vehicles inside of a covered carrier. Many use this service if they have a luxury or fragile vehicle since it removes outside interference while moving on the road, such as rain, snow, dust, and debris. Another added benefit of enclosed carriers, is that they hold fewer vehicles, so there will be less loading over the course of the transit.
How Much Does Enclosed Auto Transport Cost?
The cost of enclosed auto transport depends on a few factors.
The type of vehicle you need shipped, where your vehicle is being shipped from, and the destination. Each of these will affect the price. As an example, enclosed car shipping will be a different price than enclosed motorcycle shipping even with everything else the same. For this reason, the shipping specialists at Schumacher create a custom quote specific to your shipment needs.
To get your free enclosed vehicle transport quote, use our Quote Form at the Bottom of the page
Enclosed Transport vs Open Transport
In most cases, enclosed transport costs more than open transport. This leads to the question, "Is enclosed transport worth the price difference?"
Here are some factors to consider when deciding whether to use enclosed auto transport vs. open auto transport:
Is the Vehicle Moving to or from Areas with Bad Weather?
Enclosed auto transport can be used to move vehicles all over the country. If your vehicle is moving through a part of the country where it could be damaged due to hail, snow, or any other type of destructive weather, then it may be worth it to you to have us move your vehicle via an enclosed carrier.
How Much is the Vehicle Worth?
Enclosed car transport may be worth the difference if the value of your vehicle is high. Enclosed car transport will keep your vehicles from dust and debris on the highway. Schumacher Cargo generally transports luxury and antique vehicles using enclosed carriers. It makes the most sense to use enclosed transport for vehicles that are investments and collectibles.
Can your Vehicle Actually Use Open Service?
Some vehicles do not have the capability to ship via open transport. In that case, enclosed carriers have alternate loading capabilities to handle many of these vehicles. Features include advanced lift gates, articulating racks, moving clearances, and many more.
Start Your Enclosed Auto Transport with Schumacher
Fill out the quote form, and one of our auto shippers will get back to you with a quote for enclosed transport for any vehicle you need shipped. Feel free to request an open transport quote as well to compare between the two.
Alternatively, contact us via phone during business hours to immediately start with a Schumacher representative.
Toll Free: 800-599-0190
Auto Shipping Quote Form
SCL Enclosed Car and Motorcycle Shipping Reviews