Moving to Saudi Arabia from the US is more popular than ever. Many American expats desire to live and work in the largest economy in the Middle East. One of the major draws for expats is no income tax and low sales tax. This has allowed many Americans to enjoy the country and drives many skilled workers to move.
Since 1977, Schumacher Cargo Logistics has completed thousands of shipments to and from Saudi Arabia. Our experience has streamlined the moving process, letting us deliver the best value.
Take a look at the guide on how to move to Saudi Arabia and start your international relocation today!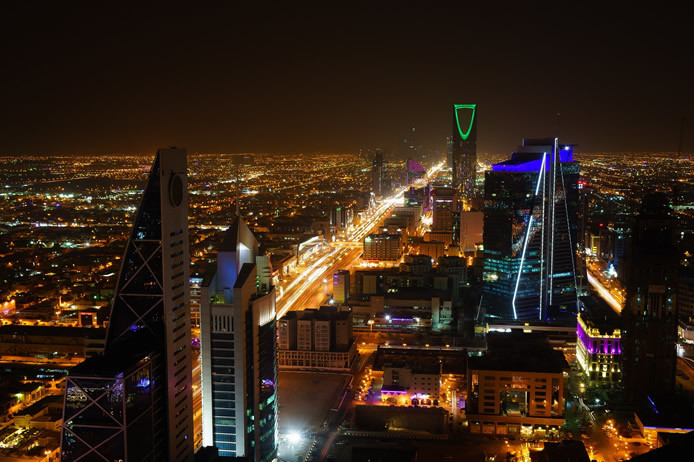 How to Move to Saudi Arabia
Unlike what many people think, Saudi Arabia is friendly to American expats in the country. The process to move here is easy as long as you send no restricted items. They're also now allowing long term tourism visas in Saudi Arabia, which means you can live long term without a job. Follow the steps below and learn how to move to Saudi Arabia.
Steps to Move to Saudi Arabia
Estimate Your Move Size
Get a Custom Quote for Your Details
SCL Ships Your Items to Saudi Arabia
Receive Your Items Overseas
Estimate the Volume of Goods
The first step to moving is knowing how much you need to move. With our consolidated service, you only pay for the space you need. By consolidating goods into one container, we are able to offer the best value for any size shipment.
We have preset sizes from 10 boxes all the way to a 4+ bedroom home. If you want to make a more detailed estimate, we also have a Household Goods Volume Calculator. Additionally, you can also ship vehicles with your goods.
Note: Saudi Arabia restricts some items from import. To see some examples, see the restrictions section at the bottom.
Get a Price for the Move to Saudi Arabia
Once you have an estimate for the size of your shipment, use our Online Quote Form to get a free custom quote. Similarly, you can call in at 1(800)-599-0190 to talk to one of our relocation specialists.
The price to move to Saudi Arabia depends on many factors. This means each shipment will have a different price. For example, distance from ports, size of move, and service ordered all affect the cost. This is why our specialists create quotes that reflect your specific information.
SCL Receives and Ships the Goods
Upon agreeing to your quote details, we can begin your move. Depending on the service, we can pack and bring your items to one of our warehouse or you can bring them to us directly. Your goods will then be prepared in the container and ships once the container is full. After the ship sails with your goods, a message is sent to you along with the Bill of Lading.
Complete Your Move To Saudi Arabia
As your goods arrive, they will begin to clear customs. They are then moved to a warehouse to either be picked up or prepared to move to your new home. Once you receive your goods, the move is complete and you just need to sign off. All that's left is to enjoy your time as an expat in Saudi Arabia.
Saudi Arabia Relocation Information
Popular Destinations for Relocating to Saudi Arabia
Most people relocating to Saudi Arabia will be moving to Riyadh, Jeddah, and Dammam. They offer the best opportunities for American expats and are the hubs of the country. We can also move to any other KSA cities, though almost all expats move to these three.
Restrictions for Import into Saudi Arabia
One thing you should know before moving to Saudi Arabia is they have laws restricting certain items.
Books, paintings and pictures should not be shipped by sea. You can bring these items through air freight if they do not depict religious material. Though the KSA government will inspect and censor any items they want.
Anything that contradicts Saudi Arabian codes are also banned from entry. For example decor, ornaments, games of chance, military goods, and alcohol.
Also, any items that have digital memory are subject to inspection as well. In this case they check any laptop, camera, phone, or item with memory card. They then delete or destroy the content.
This is a sample so be sure to contact your local Saudi consulate for all currently restricted items.
More Resources
Now that you know how to move to Saudi Arabia, fill our Online Quote Form to get started today.
Schumacher Saudi Arabia Moving Reviews