Do you want to import a car to the USA from overseas? Our import tool makes it easy to check your vehicle's eligibility.
Is your vehicle made to US specifications?(was it originally manufactured for the US market or previously registered in the USA)
Is your vehicle 25 years or older?
Are you importing your vehicle temporarily?(for less than 12 months)
We are sorry. Your vehicle is not eligible at this time. You must contact the US Department of Transport and the EPA to apply for special approval
U.S. Import Authorities
The following is a list of the government authorities that importers are involved with and to whose standards each and every vehicle must comply. We've also supplied the contact information.
Department of Transportation (DOT)
1200 New Jersey Avenue, SE
Washington, DC 20590
(855) 368-4200
Environmental Protection Authority (EPA)
1200 Pennsylvania Avenue, N.W.
Washington, DC 20460
(202) 272-0167
Customs and Border Protection Agency
1300 Pennsylvania Avenue, N.W.
Washington, D.C. 20229
(877) 227-5511 or (202) 325-8000 for international calls
Documentation
*You may obtain a quotation for vehicle conversion from one of the accredited EPA Independent Commercial Importers. These ICI Centers can also advise if your vehicle would be subject to EPA / DOT approval for importation. If you are satisfied with the proposal received from ICI and still want to proceed with importing your vehicle, please contact [email protected] for a transportation quotation via Ocean or Airfreight.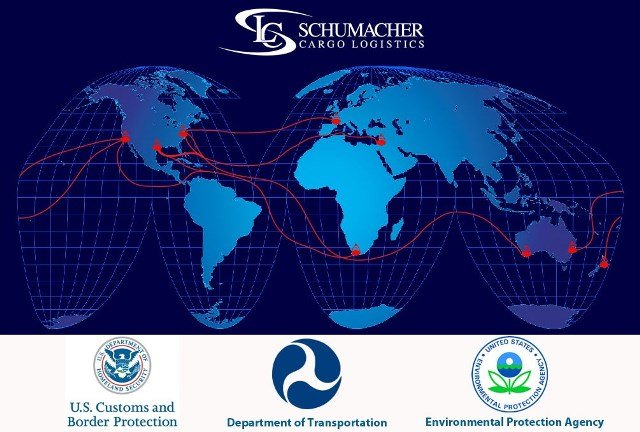 We have import parters accross the globe and can handle your shipment to the USA from over 60 destinations and offer door to door service!
Our auto import services include:
Customs clearance
EPA/DOT Processing
Documentation
Loading/unloading
Air Freight/Ocean Freight