Once you've decided that you are going to ship your car to Israel, the next step is to find a dependable auto shipping service.
Schumacher Cargo has been shipping cars to Israel from the U.S. for over 40 years and our experience is what sets up apart from our competitors.
Read our page on how to ship a car to Israel and start your international shipment today!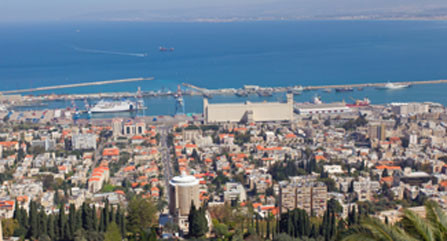 Shipping a Car to Israel from the USA
Depending on the exact service you are looking to use, we'll be able to move your car or other vehicle from any location here in the US to numerous destinations in Israel. As a note however, there are some types of vehicles and cars that are not allowed to enter Israel. Make sure that you are aware of this by referencing the nearest embassy or consulate for updated listings.
Major Destinations
Jerusalem
Haifa
Tel Aviv
Ashdod
Cost to Ship a Car to Israel
The cost of shipping a car to Israel is dependent on multiple factors and that is why our representatives create custom quotes for each. As an example shipping a car to Israel from the East Coast will cost less than from the West Coast.
For example a move to the Czech Republic from LA will have a different price than from NY even with everything else the same.
To get a custom quote for your move, please fill out our Online Form. For this you'll need to have some basic information at hand including make/model, year, pickup location of the vehicle, and contact info.
How Long Does It Take to Ship a Car to Israel?
The time frame for shipping to Israel also depends on the method used, type of goods/vehicles, departure port, etc.
When using the consolidated container shipping services to Israel, the container will not leave until it's been filled. So this may take slightly longer before your goods leave than if you were to purchase an individual container and ship this way.
Once a container is filled, your car will be on the water for approximately 4 to 6 weeks.
Israel Car Shipping Procedure
The overall process for shipping a car to Israel begins with the initial quotation. After you've received a rate and made a booking the next step is delivering your auto to one of our U.S. departure locations.
For this, you can either deliver the car yourself or we can arrange to have it picked up and transported domestically to one of our warehouses.
Because of the shorter sail time, and the frequency of the cargo, the majority of our clients who book to Israel will move their vehicles to our east coast warehouses in either New York, Savannah, or Miami.
Our Shipping Services for Vehicles Include:
Domestic pick up and transport
Full dock receipt
Photographs and inspection report upon arrival at our warehouse
Online tracking
U.S. port and customs clearance
Although we cover the entire export procedure there will be destination fees upon importing the vehicle after it has arrived in Haifa, Israel.
Car Shipping to Israel Using Ro-Ro, Container, or Airfreight
These are the three ways of shipping a car to Israel. Each of them has their pros and cons and not all services are available at every port. We'll give you a brief overview of each one.
We recommend using our container service. There are two options, sole vs. shared. As we are consolidators, our rates to Israel are highly competitive when moving vehicles inside a shared container.
Transportation costs are lower than when using a sole container service as well as destination and unloading fees because you're essentially sharing the costs with other clients' shipments.
Ro-Ro stands for roll-on roll-off. Using this method, your car is driven into the hull of the vessel.
Should you elect to ship your car to Israel using Ro-Ro, we have rates to both Haifa and Ashdod from New York and Baltimore.
If you're bringing a single vehicle by itself, this would be an option however it must in running order and it cannot have any other items in the car.
Transporting a vehicle to Israel via air freight is the least common method due to the costs involved, but it's also the fastest.
Importing Autos into Israel
Haifa is our port of entry for anyone shipping a car to Israel via container. This is where customers' vehicles will pass through customs.
Should you need your car transported from Haifa to another city in Israel, our destination agents will be able to work with you.
Tax and Duty Information
If you are going to ship a car to Israel you can expect to pay heavily in customs duties.
Car Tax in Israel: 50% of the value
VAT: 17% based on the value of the vehicle plus the amount it's taxed
Documentation Required
Valid driver's license, vehicle registration, plates and insurance
Entrance visa
Passport
Teudat Oleh
Clear title
Bill of lading
Under no circumstances are right hand drive vehicles permitted, which generally isn't a problem for those shipping a car to Israel from the U.S.
Start Your Car Shipment to Israel with Schumacher
Since 1977, Schumacher Cargo Logistics has offered premier international car shipping to Israel from anywhere in the USA. With over 40 years of experience we have developed the processes and services to remove the hassle from your shipment overseas.
Fill out our Online Quote Form and start your move overseas today!
For any other questions on a move, destination services, or locations, call one of our household goods shipping specialists:
US 562-408-6677 // Toll Free 800-599-0190
SCL Israel International Car Shipping Reviews