Moving to Greece from the USA is popular among Americans looking to retire and people returning to their home country. Some of the most beautiful islands and iconic landmarks exist in Greece. For people who want a change from life in America, Greece is a great choice. For those looking to live here, Schumacher Cargo Logistics is here to help make your move stress free.
Read our guide below on how to move to Greece from the USA and start your relocation today!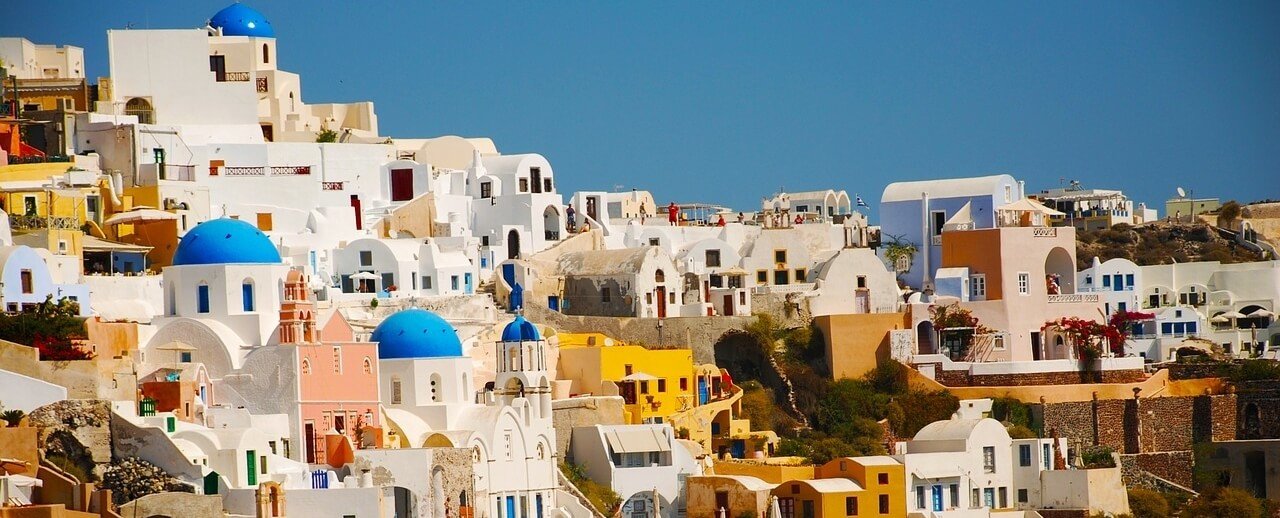 How to Move to Greece with Schumacher
Schumacher Cargo Logistics has over 40 years of experience moving to and from Greece and the USA. We have locations across the states making the process of moving both convenient and affordable because we're able to offer clients a wide selection of moving services. See the steps below for how you can move to Greece with SCL.
Steps for International Moving to Greece
Calculate Volume of Goods
Get a Custom Quote for the Move
Schumacher Packs and Moves the Goods to Our US Warehouses
Ship your Household Goods to Greece
Receive your Goods
Estimating the Volume of Your Goods
Start your move to Greece by establishing the amount of goods you would like to ship. Once you have a volume, you will have a better understanding of your particular needs. Each move is unique, so knowing what you are actually moving will allow you complete the process successfully. If you don't have an idea, we can quote using general estimates such as a one bedroom apartment or three bedroom house. If you need, we can also schedule a survey of your household and help estimate with you.
Get a Quote For the Cost for Moving to Greece
Once you have a estimate for your move, the next step is to start a quote request. Every move has a different price because of individual volume, origin, and services. For this reason, our representatives create custom quotes to make sure you get the most accurate information. To illustrate the difference, the price for moving to Greece from LA may be different than NY even for the same goods.
Get a custom quote through our Online Quote Form
Pick Up and Delivery to a Schumacher Warehouse
Our door to door moving service makes it easy to export goods to Greece. We pick up the goods from anywhere in the USA then pack and load them. After they enter our warehouse and prepare to go out to sea. They will then ship once the container is ready to go. You will receive a Bill of Lading and message as the ship leaves which includes an ETA for the arrival.
Moving Household Goods to Greece
For the actual shipping portion of moving to Greece, we over a variety of services to fit your move. Whether you prioritize speed or value, we can guide you on the appropriate services.
How Long Does Moving to Greece Take?
There are variables that affect the overall amount of time your move will take. Generally a shipment takes about 8-10 weeks door to door. This does not account for factors like consolidation time if you choose that method. If you've chosen to do a consolidated move to Greece, you will need to wait until the container is full. The actual time to move the goods to your door in Greece has so many factors involved that you should wait to see the ETA once the boat sails.
As international movers, we do everything that we can to deliver as soon as possible but these should serve as a guide as they are estimates and transit can change.
Consolidated Container Shipping to Greece
A consolidated move to Greece is when your goods ship alongside other customers in the same container. This service offers the best value as you only pay for the space you use inside. On the other hand, consolidations add time to the overall move so you may use another service if speed is what matters. A move to Greece will not start until the container is full, which can take a variable amount of time.
Full Container Service
As opposed to consolidations, full container service is when you ship your own personal container. We offer both 20 and 40 foot containers that hold 1000 and 2000 cubic feet respectively. If you are close to those amounts, a full container is definitely the right choice. The price is efficient, while you also do not have to wait for anyone else to ship.
Air Freight
Air freight moving is the fastest possible way to ship. Your items are loaded onto a plane and are flown right to the nearest airport to the destination. With this your international move can be finished as fast as one to two weeks. This is generally only used if cost is no issue as it is the most expensive option.
Completing the Move to Greece
The main port for importing goods in Greece is Piraeus. For shipping household goods to Greece, we offer door to door services meaning you can choose for us to deliver anywhere in the country once they arrive.
When arriving, your goods enter the custom clearance process. As they clear, they unload into the warehouse and a representative will contact you regarding the next steps. Your delivery will be scheduled as transit is secured and then delivered to your door. After receiving your goods, all that's left is to enjoy your time as an expat in Greece.
Popular Moving Destinations in Greece
There are different cities that many American's love to move to in Greece. From the busy historic cities in Athens to the beachside houses in Santorini, people from the USA have found many different styles of places to move to. Whether you're moving to Athens or Corfu, we can take your goods right to their destination.
Athens
Corfu
Thessaloniki
Piraeus
Santorini
Mykonos
More Greece Moving Resources
For any additional questions about moving to Greece from the USA, please use our quote form to get a free estimate or call one of our specialists at:
US 562-408-6677 // Toll Free 800-599-0190
SCL Greece International Mover Review