Schumacher Secure, a division of SCL Inc., is a company dedicated to providing the best international classic car shipping services for vintage, high profile, and collectible automobiles. Schumacher Secure has had the pleasure of shipping classic cars internationally for more than four decades. We have dedicated export specialists who offer on site auction services at major auctions in the USA.
As an international classic car shipping company specializing in the safe movement of vehicles, we are proud to offer the discerning car collector a completely secure and professional mode of transportation for their vehicle.
With some of the rare classic cars we see, secure international vehicle transportation is the only option that makes sense. Not only do we have a specialized loading procedure, we proudly own and maintain our warehouses while also providing a unique online tracking system to ensure the preservation of your investment.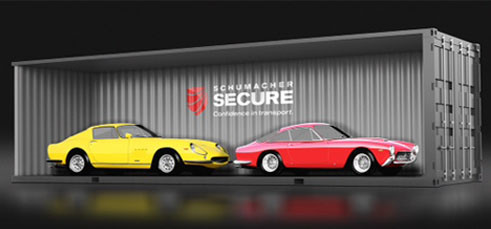 Overseas Transport for Classic, Auction and Collectible Cars
We take our jobs very seriously. The art of shipping classic vehicles overseas, either by land, sea, or air, demands the highest level of service. Our expertise in the matter has made us a leading auction car shipping company within this niche industry.
Why choose Schumacher Secure over other high end classic car shipping companies?
Customer representatives fully trained in caring for antique cars
Warehouse personnel with the best tools, equipment and tailored handling methods
Specialty container additions for increased protection
Documentation is detailed and accessible to our clients
Online tracking systems that are the best in the industry
Customized Loading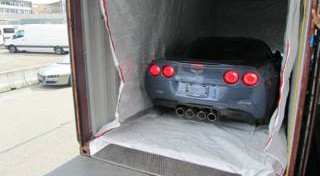 $8 Million Ferrari – Air Freighted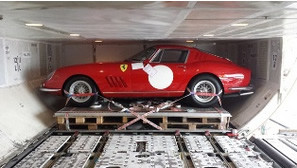 Classic Car Event Coverage
Our Schumacher Secure covers many of the largest auctions in the US including Bonhams, Mecums, and RM Sotheby's. Additionally, we are constantly present and involved at international events such as Retromobile and Techno Classica Essen. We even cover popular auto shows and classic car events across the US.
Above all, we love classic and vintage cars.
Having a solid understanding of the requirements that facilitate a professional service allows us to offer a customized and tailored service to each of our customers.
So whether you need to ship a classic vehicle you just bought in the USA back to the UK, or across the Pacific to Australia, our dedicated team of experts will assist you with every step in the process and ensure that your time with us runs as smoothly and efficiently as possible.
Looking for a new Vintage Car? We'll ship it internationally from anywhere in the USA!
Whether you have a 1915 Peerless or the latest Ferrari, we love cars at Schumacher Cargo! Vintage cars, racing cars, family cars and barn-find autos all have a history. If they need shipping to another part of the world, we provide the care and attention needed to make sure your vehicle arrives safely.
For those avid motorcycle collectors or riders, Schumacher Secure also handles classic and vintage motorcycles. We ship lots of motorcycles overseas every year and have handled some of the oldest and the rarest models ever.
More Info
As a dedicated international classic car shipping company, we take pride in our services. To begin shipping your classic car, fill out our online quote form at the top or call at 1-800-599-0190.
Schumacher Cargo Logistics Classic Car Shipping Reviews