Looking to ship a car from the USA to Dubai, Abu Dhabi, or another destination in the United Arab Emirates?
The actual process is simple and after more than 40 years shipping cars from the USA, we are able to offer some of the most competitive container rates to the UAE in the industry. Fortunately, there are no age limits for vehicles when importing a car to the UAE. The main difference will be in the form of duties and taxes. However, as of 2015, conditions have changed slightly when importing vehicles in UAE from the USA and non GCC countries.
Read our guide on how to ship a car to the UAE from the USA below and start your international shipment today.
For a quick quote fill our our form at the top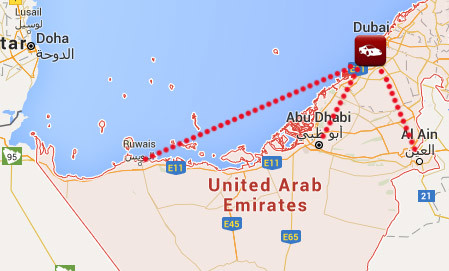 How to Ship a Car to the UAE
If you want to ship a car to Dubai or the UAE as a whole, you've come to the best resource. Shipping a car from the United States to the United Arab Emirates is quite simple with Schumacher Cargo Logistics. Once you start your shipment with us, we take care of all the major steps from beginning to end.
Three Ways to Ship a Car to the United Arab Emirates
Each and every shipment is different, and the methods used for transporting vehicles are more appropriate in some situations compared to others. For example when exporting a standard car to Dubai, consolidated container service is usually the best.
Container Services to UAE
Our expertise is in consolidated container shipments and this is the method we recommend. Transporting a car to the UAE using this method offers very competitive rates. With this service, we ship multiple customers' vehicles in the same container. This means the cost to ship a car to UAE is based on the space your vehicle takes up.
If you would prefer to ship a car to Dubai in its own container, we provide this service as well. It costs more but it can cut down the arrival time. If you are moving to Dubai or Abu Dhabi, this would also allow you to put a reasonable amount of your belongings inside the container.
Ro-Ro to UAE
RoRo car shipping to Dubai is possible, but not from every port in the US. This term stands for roll-on roll-off. Cars are transported inside the shipping vessel and secured within the hull. Car shipping to the UAE via RoRo will involve transhipping. In this case, it means your vehicle will ship to a different destination and then moved onto another ship to go to Dubai. If you are shipping a car to anywhere else in the UAE, transport can be arranged from Dubai.
Air Freight to UAE
Shipping a car to the United Arab Emirates via air freight is by far the quickest way to get it overseas. So if you absolutely must deliver a vehicle short notice, this is a possibility. However, it is very expensive and you're better off selecting a container service. When you need to move a car to UAE in record time, this service will work. Generally, air freight is used to meet tight deadlines for events like races or shows.
*All the cars we ship via ocean container will arrive in Dubai where your vehicle will be unloaded and inspected by customs.
Our UAE Car Shipping Services
If you've already decided to ship your car, then you know that there are two different aspects: exporting the vehicle and importing the vehicle.
For the export side here in the USA, we offer:
US customs clearance
Domestic pickup (if you need it)
Inspection at our warehouse with images
24/7 online tracking
We'll also make sure that you have all the necessary documents for importing your vehicle to the UAE before it leaves the US.
Once it arrives, our agents will help you with the import process and the associated destination fees.
Costs, Importation, and Customs in Dubai
How Much Does it Cost to Ship a Car to the UAE
When shipping a car to Dubai, it is good to be prepared with costs, import process, and customs. Costs are calculated using space and also vary depending on the method of transport. Since price depends on your particular details, we can't supply an accurate value until we've got your location and vehicle information. For this reason our auto representatives create custom quotes for each car shipment to Dubai, and provide separate pricing for inland transport to anywhere else in the UAE.
To start your car shipping to UAE, please fill out our Online Quote Form today.
However we can give you an idea of what you'll have to pay once it arrives. Dubai has favorable duties on cars. You'll have to pay 5% of the total value including insurance and transport. They'll base this amount on the invoice of the vehicle. Though be sure to check
How Long Will it Take to Ship a Car to UAE
Car shipping to the UAE entails transshipments which mean slightly longer sail times. If you want to move a car from New York or another east coast location, sail times are between 4 and 6 weeks. From the west coast, cars will be on the water between 5 and 7 weeks.
Have more questions about the process? Please call us today or get a free car shipping quote and we will help with the details!
Importing a Car to UAE from USA
The items that we will need from you in order to ship your car include:
An invoice for the car (bill of sale)
Identification
Valid title
Valid UAE residence Visa
If you are a resident of the following AGCC countries, then you will not need the residence Visa listed above:
Bahrain
Kuwait
Oman
Qatar
Saudi Arabia
UAE
If you are importing cars in Dubai from the USA, and are not a resident of the above listed Arab GCCs, then you will need to obtain a valid UAE residence visa prior to importing your car. Our car shipping specialists can best direct you how this can be done.
More Resources
Start your car shipment to the UAE today and fill out our Online Quote Form
For further information on any of above service options, please call and discuss your shipping needs with one of our Car Shipping Specialists:
US 562 408-6677 // Toll Free 800 599-0190
SCL Car Shipping to UAE Reviews