Experienced Vehicle Transport to Poland
Shipping a car to Poland from the USA is easy with the right international shippers.
Schumacher Cargo has been moving cars to destinations such as Warsaw, Gdynia, Krakow, and other destination cities for more than 40 years. We have extensive experience exporting vehicles from the US to Poland, as well as numerous other destination base ports in Europe.
Although shipping a car to Poland from your home in the U.S. may sound like a daunting task for an individual, it's not.
This process is actually quite simple. Once you conduct the proper research and you familiarize yourself with the steps, it makes a huge difference. This is where we can help.
Some of the important things to know are:
Customs procedures both in the U.S. and upon arrival at the destination
The different shipping options available
Vicinity of your current US location to the departure port
All charges applicable when your car arrives in Poland
Read our page below on how to ship a car to Poland and start your international shipment today!
If you are looking for a quick quote fill out our Online Form at the top of the page.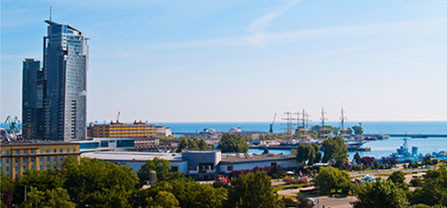 How to Ship a Car to Poland with Schumacher
Car shipping to Poland is usually done in a shared container. We can load up to 4 vehicles in a 40ft container, but 3 would be the normal count for full container load.
Before you can export your vehicle, you must provide us with an original clear title to clear customs. If you recently purchased the vehicle, you must have a bill of sale also.
Your status will determine whether or not you are liable for any polish tax and excise duties. Please ask our sales team for more advice on this.
We have 5 U.S. locations all strategically located near major departure ports in Los Angeles, Houston, Miami, Savannah and New Jersey.
In the case of Poland, and all European base ports, the sail time is faster when shipping from the east coast. This cuts down on the delivery time frame as well as ocean freight costs.
However, not everybody lives close enough to one of our warehouses so that they can drop off their vehicle for shipping. This is why we offer a full domestic pick up service, so we can have your car picked up and transported safely to our nearest warehouse.
If you do live close enough and have the time to deliver the car to our warehouse in New York for example, that option is available to all clients. Just make sure you have your booking reference number before dropping it off.
When shipping with us, after we've received the automobile, we finalize and ensure that everything needed for export is correct and in order.
Additional Services Include:
Full vehicle inspection upon arrival with photos
Customs documentation
U.S. customs and port clearance
Online tracking of your car shipping process
As you can see, we take care of the entire export process so you won't have to worry about all the bureaucratic steps in the U.S.
International Transport Options
There are a few different methods for transporting cars overseas. How your car is shipped will depend on your needs as a client, what your expectation is for final delivery overseas and your choice of arrival port.
The port of entry we use in Poland is Gdynia. We offer both containerized shipments and roll-on roll-off service.
Shipping a Car to Poland in a Container:
This is the method we base our competitive rates on and recommend. There are two ways you can do this.
Clients can either ship their own vehicle by itself in a 20ft individual container or move the vehicle via consolidation.
This is when we load multiple clients vehicles' in the same 40ft container. Talk with your salesperson for more information about this.
Selecting a consolidated service will lower the costs to ship your car because you're sharing the total costs.
Some clients also elect to transship their autos to Bremerhaven, as it's a slightly busier market and we have consolidations leaving more frequently.
Port Information
From the U.S., if you're shipping a car to Poland with the consolidated service, the port to port rate you receive will be to Gdynia and there will be destination fees for your vehicle upon arrival.
This port is centrally located in northern Poland on the Baltic Sea. From there, clients can speak with destination agents about moving the car to a further destination.
Distance from Gdynia to:
Warsaw 381km or 237mi
Lodz 362km or 225mi
Krakow 620km or 385mi
Poznan 357km or 222mi
Gdansk 25km or 15mi
Importing a Car to Poland
Poland is similar to other EU countries in how duties and taxes are assessed on vehicles.
The exact costs will vary depending on the specs of your vehicle, how much you paid in transport costs, insurance and whether you qualify for duty free import.
In general for a smaller sedan, there will be a duty of around 10%, with VAT of 23%. There's also a border tax that ranges depending on the size of the engine.
If you are relocating to the country and declaring residency in your new home, then you may be eligible to ship a car duty free as part of your household.
You'll have to inform customs and fill out the needed documentation in the form of an import declaration to prove that you've owned the car and driven it in the U.S. for more than 6 months as well as numerous other steps.
More Poland Info
To start your car shipping to Poland from the USA, fill out our Online Quote Form today!
For any more information on the above, feel free to call in at US: 562-408-6677 or Toll-Free: 800-599-0190
SCL Poland Car Shipping Reviews