Shipping oversized cargo is a matter of detail, proper planning, execution and the cost will depend on the actual size of the freight, machinery or heavy equipment being transported.
So what is oversize freight? Well, simply put it's any cargo that doesn't fit inside a 40 foot shipping container.
Some machinery and equipment are just too wide, too tall or too long to fit the standard specifications for a container service.
Trying to figure out whether your cargo will fit requires knowing the standard shipping container dimensions as well as that of the cargo.
Most common large shipments consist of: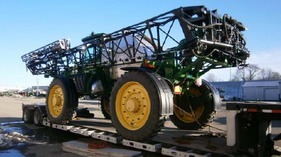 Machinery
Light Aircraft
Trucks
Boats
Trailers
Motorhomes, RVs
**The John Deere industrial sprayer above is one of the many larger shipments we've transported. In addition, one of our projects was transporting a 60,000 lb semi truck to Brisbane, Australia.
So if you are planning on shipping heavy equipment overseas, we are well equipped to handle any type of shipment through all stages of the process.
How Shipping Heavy Equipment Overseas Works
There are a few different options to choose from when shipping oversized cargo overseas. When shipping heavy equipment overseas there are specialty processes we use in order to facilitate them. The following methods are our most popular ways of shipping oversize freight.
Flat Rack Shipping Method
This essentially uses a large container minus the walls and roof. It's common when shipping boats overseas, trucks, RVs and heavy machinery.
Often, these flat racks are the last items loaded onto a ship. This means the cargo will generally be more exposed to the elements over the course of the sailing.
To combat this, especially with longer shipment duration, we shrinkwrap newer vehicles and equipment.
Roll-On Roll-Off (RoRo)
Using the RoRo method for shipping oversize freight internationally is another option. This type of transport is cost effective and simple for large vehicles like trucks, motorhomes and RVs. When shipping oversized vehicles overseas, having wheels becomes a major benefit.
They roll onto the shipping vessel below deck and out of the elements. Generally, operators adhere to a 15-foot height restriction for the loading ramp going into the hull of the ship.
Lift-On Lift-Off (LoLo)
As it implies, transporting with lift on lift off happens for vessels that don't have storage in the hull. So a crane loads all the items, machines, or equipment onto the deck.
Shipping oversized cargo that has been crated and vehicles that aren't running are quite common with this method.
How Much Does Shipping Heavy Equipment and Oversized Cargo Cost
Each shipment for heavy equipment and oversized cargo is different and that means each has a different cost as well. As an example, shipping tractors overseas will have a very different cost than a boat with everything else the same. For this reason our representatives create custom quotes for each different shipment. This allows us to give the most accurate pricing and logistics for your particular shipment.
For your custom quote fill out our Online Form
What is Breakbulk Shipping?
Breakbulk shipping is another common term when talking about shipping oversized cargo or heavy equipment. In this case breakbulk shipping is where the goods are loaded onto the top of the shipping vessel. Generally we try to load whatever we can into the vessel itself so your equipment isn't subject to the elements. Sometimes though the cargo is too large to fit through the opening and must be breakbulk cargo. Once you begin working with a Schumacher rep, we'll let you know if breakbulk cargo is what you need.
More Info
To start your international oversized freight shipment, fill out our Online Quote Form today.
For more information on shipping heavy equipment, contact one of our specialists today at:
Toll Free 800-599-0190 // USA 562-408-6677
SCL International Oversized Cargo Shipping Reviews