How to Ship Your Car Overseas Step-By-Step Guide
Do you need help shipping a car overseas or truck but feel slightly overwhelmed? Our complete guide on how to ship your car overseas breaks down the process.
Contents:
Except for a handful of destinations, the process is straightforward so don't worry.
We've also included a few additional suggestions that we propose based on our own experiences over the past 40 years of shipping cars internationally, as well common questions and myths that have come up over the years.
If you are shipping a much larger vehicle, like an RV or motorhome, visit our resource on RV shipping preparation.
So without further ado, let's get started.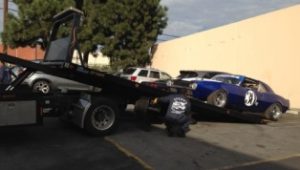 Step 1: Do Your Research
So one of the first steps in any purchasing decision is to do the research and when shipping a vehicle overseas, research is a very important step.
When we say do your research, there are a few things that need to be considered and we'll explain how they should be done.
Company Research
The first things is to gather a list of international auto transporters and shipping companies that you're considering.
Search in Google, Bing, Yahoo, etc., but also use sites like BBB.org, FMC.gov, as well as forums. Don't forget to use friends or acquaintances for references either.
Look at each company's credentials and certifications. See whether or not the company is licensed, insured, and bonded.
If a company is all of the above they won't hide it.

The licenses will vary also by the type of company you deal with. For example, freight forwarders will have FMC licensing and some may also have a special license if they operate as an NVOCC.
All domestic transporters are required to have their DOT license and if the international shipping company has an in house domestic pickup department, ask for their DOT information.
Additionally, make sure to ask each and every company, no matter how trivial it may seem, whether they are fully insured and licensed and whether they use licensed and insured carriers/third party services.
Go a step further and ask for those companies names and conduct some research on them as well.
Tip: Do this before you go out and request a quote from tons of websites. Anyone working from a computer can email you a price that looks great but it could be from an unlicensed company, for an uninsured transporter or a broker that never actually handles your automobile.
Most people searching for "how to ship your car overseas" rarely consider the entire process and all parties involved.
Cost Research
If you want to determine how much it cost to ship a vehicle overseas without requesting a quote, you can check the actual websites for rates. Although, not all freight forwarders or transporters will disclose rate information online.
It's important to note that the rates on their websites are usually for the ideal shipment (smallest size vehicle, to a popular destination, at their best rate).
Also, rates can change quite frequently with the rise of fuel costs and other surcharges so online prices may not be 100% up to date.
Another way to research shipping costs is by visiting a few forums and seeing what others paid for international auto shipping. The price that you'll find will vary based on vehicle type, the company used, the shipping method used and their departure location.
Make sure to look at the date of the response as some of the forums may contain responses from 5 or even 10 years ago.
So although you may not get an exact number using either of the two strategies it should give you a pretty nice ballpark figure, that way you have an idea of the budgetary requirements and can determine whether it is worth it to ship your car.
Step 2: Request Quotes and Compare Them
When comparing quotes, obviously the first thing that we do is look at that dollar amount. We don't always look to see exactly what it includes. So make sure to read through each quote you receive carefully…and we mean carefully.
How Much Does it Cost to Ship a Car Overseas?
There's a lot more to it than simply the ocean freight costs. Below are some key points to look for and they can all have a direct impact on cost but need to be predetermined before booking with a company.
The type of service quoted: Are you paying for a port to port, door to port or door to door service?
The method used: Is it shipping via roll on roll off vs. ocean container? Is it in a shared container or sole 20ft?
Inland transportation: This goes hand in hand with number one. Some companies quote with domestic transport included, others only include the ocean transport.
Destination Fees: Note: There will always be destination fees at every port, no matter the destination. This also relates to number one. If you are paying for door to port or port to port, this handles everything on the exporting side including US customs clearance. Unloading, customs clearance at the destination and transport from the arrival port all vary by destination. Make sure to ask about this!
Use our Online Quote Form to get a quick custom quote for your particular car shipment.
Ask About Insurance
Most of the time, international auto transporters will offer this to you either through their own in house program or through a company they work with. Once again, these numbers differ by carriers and providers.
The rates can vary between 1.85% of the value to 2.5%. Make sure you understand exactly what the insurance covers and ask your company! Are you purchasing a policy for total loss or all risk? When does coverage start?
Just like any type of insurance, when shipping an automobile abroad, the insurance is there for peace of mind. You will almost never need it, but when you do you'll be glad.
Step 3: Determine Your Cost vs. Time Trade Off
This consideration is really all about your shipping preferences. Do you want the car shipped asap or are you more concerned with getting the cheapest rate?
Most people are uninformed of how long the process can take and how much it varies based on the method you choose.
Determining Shipping Method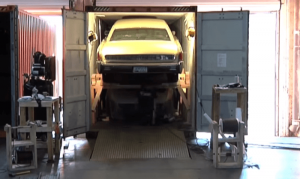 If you are trying to determine how to ship your car quickly, then the answer is simple. Book your own 20ft container, supply all the paperwork and pay the bill.
As soon as it gets into the hands of your shipper with the documentation, the company will clear US customs and it will be loaded on the next available vessel then shipped.
The trade off here is the cost so expect to pay hundreds of dollars more than you would for some the next methods.
The middle ground for time vs. cost could be considered roll on roll off. Your automobile is driven into the hull or belly of a RORO vessel and then secured and braced. This method is slower than the one listed above but costs substantially less.
Three things to consider with this method are that these vessels often transship, meaning they don't go directly to your final destination. So they can end up taking longer. This isn't always the case.
The other problem is that it lacks the added protection and security that transporting a in a container offers. So it will be open to the elements such as sea water, moisture, etc.
Lastly, using RORO, absolutely nothing is allowed inside the vehicle other than standard tire jack, spare tire, etc. So if you wanted to supply a small manifest and place items inside, that's out of the question with this method.
Note: This does not mean that the automobiles are showered with ocean water, but cars do end up getting more exposure to the elements.
Consolidated vehicle shipping is the last and most popular shipping method. With this method, your car ships in a container with other vehicles bound for the same final destination port.
This form of shipping generally takes longer since the company must have other vehicles to fill the container before it can be shipped overseas.
However, the benefit is the added protection of a container while saving money at the same time.
Selecting a Departure Port
Oftenly, the shipper will give you their best rate from their closest departure port.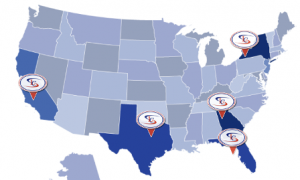 They should also give you other options. So, for example let's say you are shipping your ford truck to Australia and you live in New Jersey.
A company may have a location in New York and you may want to ship out of New York but they offer you a rate from the west coast in Los Angeles as well. At first it seems obvious that you'll want to ship from the east coast, but there are two reasons it may be beneficial to move it to California first.
West coast to Australia is a much quicker sail time and shorter distance meaning…the ocean freight will cost less.
Most of the time there is a higher volume since Australia is a more common destination from the West coast.
*This type of scenario is more relevant to overseas consolidators but it is still useful when you're trying to figure out how to ship your car overseas.
Step 4: Choose Your Shipper and Gather All the Paperwork
The first part is a result of the previous three steps and hopefully by this point you've already selected your shipper.
The next step is to gather all the paperwork and send it as soon as possible. This will allow your company to speed up the shipping process.
Requirements for Shipping a Car Overseas
Most of the time the documentation is straightforward. Documents needed to ship include a:
Clear original title
Copy of bill of sale
Copy of your US Passport
*If you're shipping via RORO, then we'll only need copies and the originals can stay with you.
Particular ports and final destinations require additional forms and documentation. We won't list every example because the list is exhaustive, but here are a few for an idea.
Shipping a car overseas from Miami requires a special notarized power of attorney
New York requires proof of payment on vehicles newer than 2016.
If you want to ship a vehicle to Australia, you absolutely must have an import approval prior to shipping.
These are just a few examples but our representatives are fully capable of answering these types of questions.
Step 5: Vehicle Inspection and Condition
When shipping any type of vehicle overseas, always do your own vehicle inspection report and take pictures. We recommend first servicing and washing your vehicle before handing it over.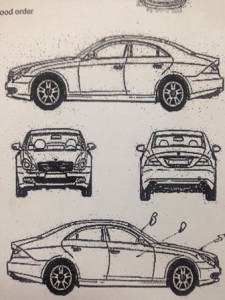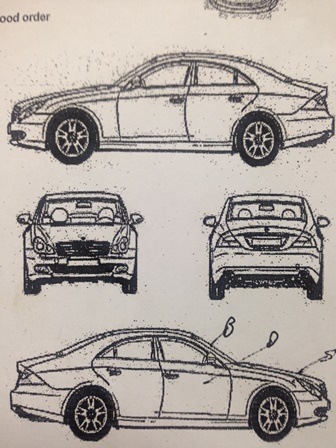 This way, you know for sure the running condition of the vehicle and it will be much easier to spot any exterior dings or damage that your exterior already has to include in your report.
Most overseas auto transporters will also do this as soon as the vehicle arrivals at their warehouse or office but two inspection reports are better than one.
Step 6: Send The Car Overseas and Complete Payment
Once we have everything to send your car, it's ready to ship internationally. Your representative will then send you your invoice. Complete the payment and you will be done with everything on this side of the trip.
Additional Advice on How to Ship Overseas
Establish a Connection With Your Overseas Agent Early
You will need to work with partners or agents overseas for most shipments. Many shipping companies provide their own for each destination.
Make sure to ask for the agent's information and contact them well ahead of time. They'll be able to answer more destination oriented questions.
In the end, there are numerous details and things that may come up during this process. Being more informed about these processes will help you out in the end.
Now that you know how to ship a car overseas, request a free online estimate with Schumacher Cargo Logistics today.