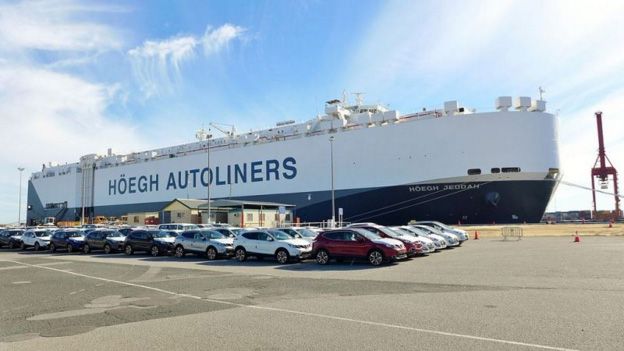 Comparing Ocean Transport Options: RoRo vs Container
Shipping a car overseas and can't decide which option is better or right for you? Roll On Roll Off or container? Hopefully after this comparison, the answer will be clear.
When it comes to shipping a car overseas, you actually have three possible options. They include car shipping via container, roll on roll off or air freight.
Because the third option is much more expensive, we will only be comparing the RORO and container car shipping methods. They are the most common and most economic.
Before we can determine which is better, it is best that you understand the key differences between them. Then you will be able to determine the best way to ship your car overseas.
Read our comparison of RoRo shipping and container shipping and see
Note:The method is only one aspect as you should consider sailing schedules, destinations, security and time frame.
How Containerized Car Shipping Works
When shipping a car internationally via container, all vehicles are delivered to your shipping company's warehouse.
Cars can be delivered personally, if you are close enough to the shipper's facility, or companies and clients can coordinate delivery using a domestic transport service.
In either case, all vehicles must be in the possession of the shipper prior to departure. Depending on the service you choose, there are two different scenarios.
Your car, motorcycle or truck will either be loaded into a sole use 20ft container or consolidated into a 40ft standard or high cube container with other vehicles bound for the same final destination.
As you've probably figured out, shipping a car via consolidated container will be cheaper since you are sharing the cost of the ocean freight, customs clearance and port charges with other individuals.
However, that also means other vehicles are needed to fill the container before it is ready to sail.
For this reason, it can take longer: so for quicker sailings, you can book your own 20ft. That does mean paying a higher cost. As always, there are tradeoffs.
What is Roll On Roll Off?
If you are looking to transport an automobile overseas via RORO Shipment, you have two options for delivery:
You can deliver the vehicle yourself directly to the departure port terminal
Have a domestic transporter pickup the car from your residence and deliver to the departure port terminal
In both cases, the vehicle will not get a inspection report done. With RoRo, the port authorities do not not issue one. This is because they are only responsible for loading and bracing the vehicle in the boat.
Because of this, vehicles being shipped using roll on roll off can only be insured for total loss, since there is no way to determine if there was damage prior to departure.

At the terminal, your auto stays outside in a open lot until it gets loaded. Using the RORO method, cars are driven into the hull, or belly, of the vessel.
The best way to visualize this is to think of a parking garage within a very large boat. All vehicles load into positions randomly in the boat.
Upon arrival at the destination port, they will be unloaded in similar fashion and you will also need to pick up your car from the port.
What is the Best Way to Ship a Car Overseas?
When you factor in all of the tradeoffs between the two car shipping methods including security, conditions, rates, time frames and departures, we always suggest clients transport their cars via container.
Our Services (Consolidated Container/ Individual Container/ Roll on Roll off Shipping-RoRo)
A large portion of our business ships on the ocean in a steel container. We have two sizes as options, 20ft and 40ft containers, however we consolidate the majority of vehicles into a 40ft container.
If you would like to see cubic volume of the 40ft container or measurements for other sizes, visit our page on shipping container dimensions.
This shared container service is what makes this method competitive and offers you a cost effective solution for shipping vehicles around the world.
We can usually load up to four cars in a 40ft high cube container.
Obviously it all depends on the make/model and size of the cargo on hand, that determines what is in the next container to a specific destination.
For bigger vehicles like trucks and SUVs, it may be a two pack or three pack.
This is why we have the additional tariff charges on our rate sheet, so that if we end up with one large SUV, one medium size car and a small car, we can still make the container viable.
Shipping RoRo as an Alternative
RORO, (Roll on – Roll off) is an alternative service option, that we have access to for cars that wish to ship to destinations that are not frequented by our container services.
We can also revert to this service if the client insists that this is the way they want to ship their vehicle, or if we have an issue consolidating to a specific destination and the time frame gets too far out for the client, we can offer RORO instead.
We always recommend a container service and do not sell RORO as our primary option. Though some shipments are only possible to complete through RoRo shipping such as super large vehicles. Vehicles larger than a 40 ft container only ship through RoRo, and in this case it is the only service to choose.
Shipping a Car: Container vs RORO Cheat Sheet
Consolidation Shipping Summary:
We receive all vehicles into our warehouse, where we inspect and photograph each one for our records
The vehicle stays indoor at our warehouse until it's ready to ship
We load multiple cars into the container, using wood ramps and mezzanines to divide the container into sections to hold all cars in place during shipping.
The chances of damage during transit is normally much less than RORO
We have control over the handling of the cars and the loading
We seal the container and deliver to the port for loading onto the vessel
Roll on Roll off (RoRo) Shipping Summary:
Client delivers the car to a terminal at the port of loading, or we have it delivered by a domestic carrier.
The terminal receives the car with no inspection report
No photographs unless arranged with the client or driver
The car is stored outdoor at the terminal prior to loading
Union workers at the port drive the car into the hull of the car carrier vessel
It is braced into position for the transit
The client collects his car upon arrival at the destination port.
Destination fees for RORO are less than those for shared container
Final RoRo Shipping vs Container Shipping Comparison
| Issue | Best Choice | Reasoning |
| --- | --- | --- |
| Cost | Consolidated Container / RoRo | Consolidated containers share the cost between 2-4 vehicles making it the most cost effective. RoRo is also decently priced as it only takes up the space on the boat. |
| Security/Safety | Individual Container / Consolidated Container | Security and safety is best inside of a container because they are sealed from the elements. The only people who interact with the vehicle are your shipper and receiver in a container as well. |
| Control | Individual Container | An individual container gives the best control over the shipping process as you have control of the sailing and what leaves in the container. |
| Time Frame | RoRo / Individual Container | RoRo is the fastest as the vehicles leave on the next available ship. An individual container is just as fast to load but needs to be secured in a container first. |
More RoRo Shipping and Container Shipping Info
If you have any additional questions regarding these two services please don't hesitate to contact us. If you would like to request a rate to ship your car, fill out our quote request form to get a custom rate within 24 hours!
SCL RoRo Shipping and Container Shipping Reviews