Car shipping to Finland from the USA is popular with many American expats and collectors overseas. Though there are many questions our customers start with the overall export/import process. The main questions being cost and the hassle of dealing with customs and paperwork.
Some of the information in this guide will address the following topics:
What ways can the vehicles be transported?
How long does it take to ship a car to Finland?
How much does it cost?
Luckily, we've got more than 40 years experience and our goal is to make this process easy on you. You can get a quick rate for the transport costs from us by filling in our online quote form at the top of the page.
Read our guide on how to ship a car to Finland from the USA below and start your international shipment today!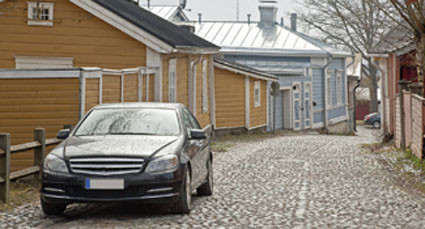 How to Ship a Car to Finland with Schumacher
If you want to ship a car to Finland, you've come to the best place. Shipping a car from the United States to Finland is quite simple with Schumacher Cargo Logistics. Once you start your shipment with us, we take care of all the major steps to complete your delivery.
Ways to Ship a Car to Finland
There are three methods that one can use and each one of them has pros and cons. The three main methods of shipping a car to Finland are inside a container, using roll-on roll-off, and air freight.
Container Car Shipping to Finland
Consolidation is our expertise and because of this, it's always the method we recommend. It cuts down costs and when room permits, you can even move some household items. Using this space for your goods is going to be a much better price than using standard parcel services like DHL or UPS. Overall consolidations will be cheaper than RoRo because you can split a container with our other customers.
If you have enough vehicles or want to skip consolidation, you can also ship your own 20 and 40 foot containers. Here your vehicles ship as soon as they are ready and you control more of the time frame.
Shipping via Roll on Roll off
Using RoRo service is an alternate option for those on the East Coast only. The benefit is there is no wait time for a consolidation. However the downside is that nothing else can be stored inside the car and it must be in working condition. The automobiles are driven into the hull of a vessel and shipped this way.
Specialty Air Freight
Transport via air freight is a very expensive alternative to sea shipping. It's an option for those with time constraints, however the costs are excessive in comparison with ocean transport. If you absolutely need to ship your car to Finland the fastest way possible, this service is the one to use. In general, races and shows are the reasons people ship via air freight as there is obligation and a time constraint.
How Much Does it Cost to Ship a Car to Finland?
The cost to ship a car to Finland depends on the departure port, type of vehicle, location and a few others. For example, the difference in costs can vary up to $600 when electing to move the car from opposite sides of the US. Since there is a lot of variation our representatives create custom quotes for each shipment. The easiest way to get a price estimate for your specific vehicle shipment to Finland is by filling out our quote form.
How Long Does Car Shipping to Finland Take?
In order to be honest to visitors, there are no exact dates and costs because each and every shipment has different variables. However, we will try and give you a general idea. Duration can vary greatly depending which port your vehicle leaves from. We have five locations across the country and the shipping time varies from each one. In this scenario ocean times generally take around 30 days from New York to Kotka, our port of entry in Finland. This time frame will be different from our other locations.
Customs Duties and Taxes
Depending on the reason for transporting a car to Finland, you may or may not be liable to pay taxes and customs for your automobile. Be sure to check with your local Finland embassy or consulate to confirm your car's tax eligibility.
Finland Car Tax Exemption Eligibility
Your car or other vehicle qualifies as removal goods if you have owned the car for more than 6 months and lived outside Finland permanently for more than a year.
Instances where a vehicle is imported for temporary use, less than 6 months of use in the period of a year. This is often the case for contracted work or educational studies and is referred to as a tourist car.
Prior to arriving, you'll have to submit proof that you meet all the requirements in the form of a customs declaration.
Otherwise, you can be looking at a more expensive process for importing your car. Lastly make sure that all documents are the originals and not copies.
More Finland Info
To begin shipping your car to Finland, call us at 800 599-0190 or fill out our quote form at the top of the page and we'll send you a competitive rate.
SCL Finland Car Shipping Reviews