Shipping a car to Ireland from the USA is very straightforward, much like the rest of the European Union. There are no special import requirements or documents that are needed other than the usual bill of sale, original title, and passport.
The main difference is that vehicles shipping from the US to Ireland will need to conform to Euro specifications to be driven legally on the roads. Additionally, cars in Ireland are right hand drive.
How to Ship a Car to Ireland from the USA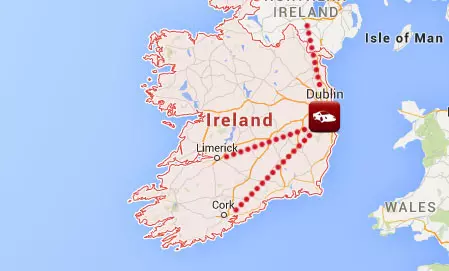 While the two most common ways of shipping cars overseas are container service or roll on roll off, the only method available to Ireland is with a container. There is no RoRo port in the country.
Your container shipping options to Ireland will be to either use your own container (sole use) or shared container service. Shared container service is one that many prefer as it offers much lower costs.
How Much Does It Cost to Ship a Car to Ireland?
The average cost to ship a car to Ireland starts around $2400 and up per vehicle. The cost to ship your car to Ireland will depend on the vehicle type, origin in the US, and destination overseas.
For example, a car shipment to Ireland from California will be different than from New York even with everything else the same.
Get a custom quote for shipping your car to Ireland now.
How Long Does it Take to Ship a Car to Ireland?
The time it takes to ship a car from the US to Ireland will depend on the vehicle location and the port that the car is shipped from.
To ship a car from New Jersey to Ireland it takes roughly 2-3 weeks, once the vehicle is on the water.
From our Los Angeles warehouse it can take around 4-6 weeks once the vehicle is on the water.
Port Information
Our US Departure Ports
New York
Savannah
Miami
Huston
Los Angeles
San Francisco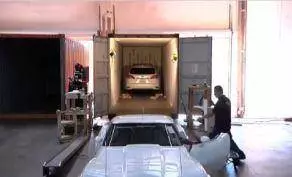 From one of our 6 US warehouses, your car will be received by our team where it will be inspected, photographed, and loaded.
Arrivals
We ship to other destinations in Ireland but a majority go to Dublin. Rates and shipping duration for vehicles vary depending on the final point of drop off but we will work with you to find the best option.
For those relocating to northern Ireland, make sure you are aware of the guidelines for shipping vehicles to the UK, as they are different.
Major Ireland Car Shipping Destinations
The major destinations for most shipments are the following:
Dublin (port of entry)
Cork
Belfast
Galway
Kerry
Importation, Duties and Taxes
If you are bringing a car into Ireland from outside the EU, it is possible to be exempt from customs duties and the standard value added tax if you declare the vehicle as part of your personal goods and household effects.
In order to do this, the owner must have lived outside the EU for at least the previous twelve months, have bought the car outside the EU, driven it for at least six months prior to moving to Ireland, and already paid the 'sales tax' or equivalent in another country.
You also have to keep the vehicle for personal use for at least 12 months after you import it. These are the documents you must have for Irish customs:
Request for exemption letter
The invoice for the car
Proof of ownership or title
Receipt to prove payment of sales tax (VAT equivalent)
Certificate of insurance for at least six months prior to import
Proof of residency outside the EU for at least 12 months prior to arrival in Ireland
Shipping document for personal effects
Anyone not meeting the above requirements when shipping a car to Ireland is responsible for paying the customs duty and tax.
Registering Your Vehicle in Ireland
Assuming you already have clearance from customs, new arrivals must register all vehicles accompanied by them within 6 months of registering with their community.
Should you be staying for more than a year, you'll have to register the vehicle regardless of temporary status. Registration is done at one of the national car testing service centers.
Shipping a Car to Ireland With Schumacher Cargo
Shipping your car to Ireland doesn't have to be a frustrating process. Our overseas car shipping specialists will make sure you have everything you need in order to ship your car to Ireland.
If you have any additional questions or would like a free estimate, call our vehicle shipping specialists at (800) 599-0190 or fill out our free online quote form.
More Ireland Car Shipping Resources
SCL Ratings for Car Shipping Ireland