Moving to Germany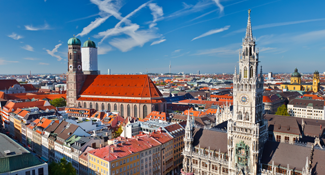 We Make Moving Your Household Goods and Personal Effects to Germany Easy
6 Things to Know Before Your Move:
There are 16 Federal Provinces. There are five important regions for trade and these are Hamburg, Berlin, Munich, Frankfurt, Dusseldorf and Cologne.
Foreign person wishing to reside in Germany, must have a valid entry VISA
Population of about 83 Million
Germans are the worlds 2nd largest consumers of beer (Irish are the first of course!!)
Soccer/Football is not just a game in Germany is the National Passion
The capital city Berlin, is 9 times bigger than Paris
Getting Your Household Goods to Germany:
There are surprisingly a few options when transporting household goods overseas. One can either use a shared container service or an exclusive container. If you are on a time constraint, we offer clients their own exclusive shipping container container of 20' or 40' at a flat rate.
With a shared container, you only pay for the actual volume you want to ship. If you are worried about leaving your car behind, don't be. We can ship your vehicle to Germany along with your household goods and other personal effects.
12 Major German Cities we ship Household Goods to:
| | | |
| --- | --- | --- |
| Berlin | Bremen | Bremerhaven |
| Cologne | Dortmund | Dusseldorf |
| Frankfurt | Hanover | Heidelberg |
| Kaiserslautern | Munich | Stuttgart |
Useful German Tax Information for Individual income Tax rates, 2013
| | |
| --- | --- |
| Tax Base (EUR) | Rate of tax |
| Up to 8,130 | 0.0% |
| 8,131-52,881 | 14% |
| 52,882-250,730 | 42% |
| 250,731 and over | 45% |
Corporate Tax is 15% + A Solidarity Tax of 5.5% for merger of 2 Germany's
VAT - Value added Tax 19%
Pet Transportation Services to Germany
Pets are part of the family too and you shouldn't have to leave them behind regardless of the extra work when moving. At Schumacher Cargo we can advise you on professional pet care services to transport them safely to your new home. Here are some tips as well:
Pets need to have an ISO pet microchip
Rabies vaccination certificates are only valid for 12 months
All forms & documentation must be in both German and English
For further information on any of above, call and discuss your move with one of our Moving Specialists at: 800 599-0190 // 562 408-6677
Written by Martyn Cohen