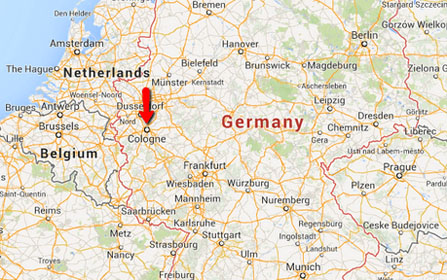 Cologne is one of Germany's most attractive cities. It has some of the most amazing historic buildings that create a backdrop to a warm welcome from the friendly people who live there.
The city is located in the federal state of North Rhine-Westphalia just a few short hours away from the Belgian and Dutch borders.
---
Shipping Your Household Goods to Cologne
For those moving to Cologne from the US, your household goods shipment will be directed through the port of Bremerhaven.
From there, your personal effects will be cleared through customs by our receiving agents and then delivered to your final residence.
In the instance that you would like to pick up your shipment yourself from our agents warehouse, you will have that option as well. You should discuss this with your Schumacher Cargo sales person when booking your move.
However, the majority of our clients moving to Cologne choose to have their household goods delivered to their new residence and unloaded by our agents.
From the Port to Cologne
385km or 239mi
This journey takes between 3 and 4 hours. The time frame can change and it will also vary depending on whether your household goods are being moved directly or via our agents warehouse.
---
Local Authorities
One of the first steps to getting settled into your new home in Cologne will be to apply for a residence permit. The second major step involves registering at the city's residents registration office.
It's important for this step to be done within the first week after you've arrived. Luckily, the city has 9 locations for the registration offices, called an Einwohnermeldeamt.
The main office is located in Cologne's city center:
Laurenz Square 1-3
50667 Cologne, Germany
221-915 73
Visit Meldebox.de for additional office locations.
---
Public Services
Like most major cities Cologne has multiple police stations and hospitals in case of an emergency.
The police headquarters are centrally located with multiple other precincts across the city.
Polizei – Police
Kalk
Waler-Pauli-Ring 2-4
51103 Cologne
Germany
+49 221 229-0
Cologne offers many options for medical needs and the majority of which are located a little outside the city center on the western side of the Rhine.
Here is the information for the University Clinic, which is located in the Lindenthal district.
Krankenhaus/Klinik – Hospital
Kerpener Str. 62
50937 Cologne
Germany
+49 221 4780
---
Transportation Around the City
Almost every part of the city is accessible via public transportation whether it's by taxi, tram or bus which can be a different experience for someone moving to Cologne from the USA.
You can visit many of the local attractions including the Altstadt, museums and world famous Cologne Cathedral by using their WelcomeCard.
It costs less than 10 euros and you'll be able to use all forms of public transport. For those of you that would like to see the city by car there are multiple rental services available.
Rental Services
Auto Europe
Europcar
Enterprise
Avis
Getting settled into your new home should be an enjoyable experience, so let us do the hard part for you. We can help you ship your household goods to Cologne and provide you with a great relocation service.
Get a quickFree Moving Quotenow!
For further information on any of above, call and discuss your move with one of our Moving Specialists at: 800 599-0190 // 562 408-6677
Written by Martyn Cohen