Shipping to Germany from the United States?
Germany has established itself over the recent years as the economic powerhouse of the EU. It's also one of our biggest markets with over 100,000 Americans living and registered in the country. Additionally, many international shipments to Germany from the US are from our large number of armed forces members who are stationed across the country.
In terms of international household goods transport and automobile shipping, we have assisted thousands of Americans with the relocation process. Our 40+ years of experience shipping goods to Germany is something we take pride in and if you are considering accepting a position with your company in Berlin or taking a track car to the Nurburgring, our team can make that happen.
Read our guide below on how to ship to Germany and start your international shipment today.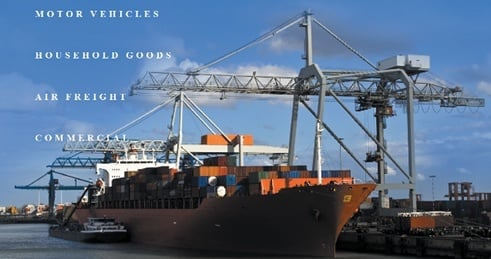 How to Ship to Germany from USA
When shipping to Germany, be sure to have the details of your shipment ready. A few of the things you should have in mind are the type of good, origin, and destination. With this info we can begin to work with you on completing your shipment.
What Items are You Shipping to Germany
Although we specialize in cargo shipments of household goods and vehicles to Germany, there are a number of other items that we ship. Some of these include motorcycles, specialty goods, oversized items, and boats.
Goods We Ship to Germany:
Cars and Motorcycles
Full Moves
Partial Moves
Furniture
Precious Goods, Antiques, Paintings
Classic Vehicles
Oversized Vehicles, RVs, Boats, etc.
What is the Cost for Shipping to Germany
The cost for shipping to Germany from the US depends on factors specific to each individual. Details that change the price are the type of good, origin, destination, service type, etc. For example a shipment to Germany from LA will have a different price than from NY. Since there is so much variance, our representatives create custom quotes for each particular shipment.
The easiest and most accurate way to get this custom quote for international shipments to German cities is to fill out our Online Form, or give us a call at 800-599-0190. To speed up the process there are a few important bits of information to have on your end.
We'll need to know specific dates for pickup, the destination, and any special requests you may have. The additional information will depend on the type of shipment; i.e. vehicle, home, pet, etc.
We Ship to All Major German Destinations:
With major warehouses throughout the US we can pick up your goods no matter where they are in the country. This extends to Germany as well and we can deliver to wherever your destination is overseas.
Below are some of the most popular cities we ship to in Germany:
| | | |
| --- | --- | --- |
| Berlin | Bonn | Bremerhaven |
| Cologne | Dresden | Dusseldorf |
| Frankfurt | Hamburg | Hannover |
| Heidelberg | Leipzig | Lubeck |
| Munich | Nuremberg | Bremen |
Germany is centrally located in Europe, which makes it an ideal access point to the other countries. If you are going to be shipping to an inland country such as Austria, we ship the container to Germany than transport it the rest of the way by land.
Container Shipping to Germany
Container shipping to Germany is our most popular way of transporting goods. With this service, your goods are loaded into a container in the US and sails to the port in Germany.
We offer two main container services, consolidated and sole use. Each of these has benefits depending on your particular shipping situations.
Consolidated Container
Consolidated container shipping to Germany has multiple customers fill a container together. The benefit of this is the cost is split based on the space. This is the best value for shipping to Germany as you only pay for the space you use rather than pay for a whole container.
Sole Use Container
Sole use container shipping to Germany has a full container for a single person. We offer both 20 and 40 foot containers to Germany and hold 1000 and 2000 cubic feet respectively. The benefit of this service is you have more control over the shipment. Rather than wait for other customers, your container can ship as soon as the goods are ready to go.
Quick Facts About Germany
Germany is bordered by 9 other countries in Europe.
There are an a large number expats living in England and most live in Munich, Berlin.
The country of Germany is a little smaller than Montana but has a population of 81 million roughly.
More Germany Shipping Info
To start shipping to Germany from the USA, fill out our Online Quote Form
For info on any of the above, call one of our representatives at US: 562-408-6677 or Toll-Free: 800-599-0190
SCL German Shipper Reviews