Moving to Berlin from the USA is common among American expats. Berlin is both the capitol of Germany as well as the largest populated area in the country. Expats in Berlin can expect a large volume of Americans so acclimation is much easier than some of the more remote areas. These factors have led to Berlin being one of the largest destinations to live in the country.
With over four decades of experience, Schumacher Cargo Logistics has completed thousands of moves to Berlin. We have streamlined the moving process, helping us deliver our customers the best value for their shipment.
Read our Berlin moving guide below and start your international move today!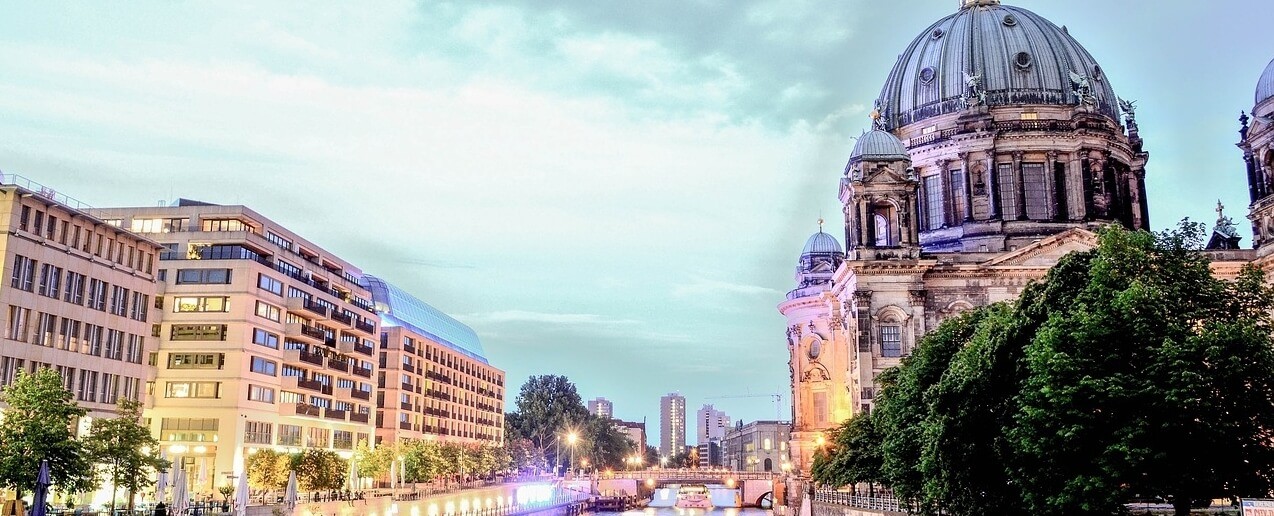 How to Move to Berlin from the USA
With so many people making the trip, we compiled a guide on how to move to Berlin. There are many nuances for moving to areas of Germany which we'll explain below.
Steps for International Moving to Berlin
Calculate Volume of Goods
Get a Quote
Ship your Goods to Berlin
Receive your Goods Overseas
Volume to Ship to Berlin
Before starting your move to Berlin, create an estimate for the volume you want to ship. Once you know the size of your move, you will have a better understanding of the necessary services. Each move is unique and knowing what you are actually moving will allow you complete the process successfully. We can also work with you based on preset amounts such as a 2 bedroom apartment, though we'll want a more concrete number before the move.
How Much Does Moving to Berlin from the US Cost
Once you have a estimate for the size of your move, the next step is to complete a quote request. Each particular move will have a different price due to factors such as volume or origin. For this reason our representatives create custom quotes for every move to make sure you get the most accurate information. To illustrate the difference, the price for moving to Berlin from LA will be different than from NY even for the same goods.
Request a custom quote for your move to Berlin through our Online Quote Form
Export Your Goods to Berlin
Our door to door moving service makes it easy to export goods to Berlin. We pick up the goods from anywhere in the US then pack and load them into a container. They will then ship once the container is ready to go. You will receive a Bill of Lading and message as the ship leaves which includes an ETA for the arrival.
Transit Time for Shipments to Berlin
There are many variables that affect the overall amount of time your move will take. Generally from your door to the port in Germany, it takes about 5-7 weeks from the East Coast. This is about a week or two longer from the West Coast as travel distance goes up. The actual time to move the goods to your door in Berlin has many different factors so we rather your representative give you an estimate once they have all your move details.
As premier international movers, we do everything possible to meet estimates but these should serve as a guide rather than exact times.
Complete the Move Overseas
The main port for importing goods consolidated goods in Berlin is Bremerhaven, Germany. For shipping household goods to Berlin, we offer door to door services meaning you can choose for us to deliver anywhere in the country once it arrives at the port.
When arriving, your goods enter the custom clearance process. Once they clear, they will be unloaded and a representative will contact you regarding the next step. Your delivery will be scheduled as transit is secured and then delivered to your door. After receiving your goods, all that's left is to enjoy your time as an expat in Berlin.
Start Moving to Berlin with Schumacher
If you are ready to start your move to Berlin, use our Online Form at the top of the page.
Otherwise if you have any other questions, please call one of our representatives at:
USA: 562 408 6677 // Toll Free: 800 599 0190
Schumacher Berlin Mover Reviews