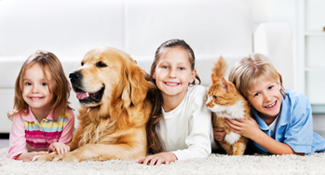 Attention: The following information should be used as a general guideline. Requirements for each country can change frequently so make sure to contact the proper authorities before you travel to Germany with a pet.
Pet Travel Rules for Germany
Whether you are traveling or moving with your pet to Germany, taking care of the necessary preparations and ensuring you have met the country's requirements can make your experience much easier.
Germany has specific import rules for dogs, cats and other pets entering the state. All animals must be fully vaccinated and be equipped with an electronic transponder (microchip) before arrival.
Additionally, you must have all the required documentation and certification from an approved veterinary establishment.
Then you'll need clearance from the USDA in the states before your pet leaves.
Obtaining Full Valid Vaccinations for Your Pet
If you have not already implanted your dog or cat with a microchip, do so before you have any tests, treatments or vaccinations done.
Valid vaccinations for pets will only be accepted by German inspectors if performed by an approved vet. If you are unsure whether your local vet has the authority, the easiest thing to do is simply ask.
Animals must be vaccinated for rabies and other diseases from your vet. The rabies vaccination must be done at least 21 days before you plan to move your pet to Germany.
Also, 10 days before your pet's departure for Germany you must receive the international health certificate from the vet. The reason for this is that it's only valid for 10 days before arriving in Germany.
Pre-departure Clearance for Pets
This approval corresponds to USDA/APHIS compliance and endorsement. You must get this final endorsement for any and all pets.
If you do not chances are, the animal in question won't even be transported to Germany by the airline.
Items you will need to send to the USDA Veterinary Office include the vet health letter certificate, vet letter, record for the microchip implant and the rabies certificate.
Tips for Pet Travel to Germany
You should always carry the original documentation for your pet but we would suggest making copies of everything.
Give yourself at least two weeks to prepare for each step sometimes even longer but make sure that you abide to required timeframes.
Do not assume that your pet is eligible even though you have taken all the necessary steps. Check with the local German embassy for lists of breeds that are not allowed into Germany.
When bringing dogs to Germany, you will have to register them with your local town hall and pay a yearly tax.
Written by Damien Shields