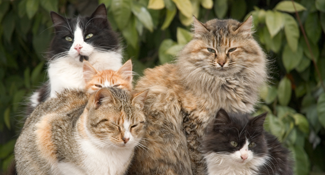 Attention: The following information should be used as a general guideline. Requirements for each country can change frequently so make sure to contact the proper authorities before you travel to Holland with a pet.
Traveling With Your Pet to Holland
For some, the idea of leaving your pet behind for more than a few weeks is unbearable: but what if you are going for a longer period of time or even moving to Holland for a few years?
There's some good news. You can bring your pet with you to the Netherlands whether for a few months or a few years.
You'll have to meet all the requirements for both customs at home and Dutch customs before your pet will be allowed into Holland though.
Proper Identification and Vaccination
In order for your pet to legally be able to enter Holland, it has to have had all the necessary tests done by the proper authorities. Additionally, there are a few documents that are required by law.
For the most common animals (dogs and cats), they are required to have an EU passport at all times. This means before arriving in Holland and for the entire time they are in the country.
Another identification requirement is an ID chip that must be implanted under the skin. This is for EU purposes as well as Dutch law and applies to all countries in the EU.
Be sure to check that the microchip complies with the legal standards.
As far as testing goes, your dog or cat must have been vaccinated for rabies and other diseases within the last year and no later than four weeks prior to arriving in Holland.
Documentation
You'll need to round up some documents in order to get approval first from the USDA first. If your vet is accredited, then they should carry a standard health certificate which needs to be filled out.
Additionally, you'll need to send them proof that your pet has been implanted with a microchip suitable for Holland, certificate of its rabies vaccination, the vet letter an EU vet health certificate.
Make sure you always have these documents with your dog or cat.
Tips for Pet Travel to Holland
Every animal will react differently to being shipped. However there are some things that will help during the trip to Holland.
Let your dog or cat get used to its kennel before the flight. This doesn't mean the night before. Give the animal at least a week even more to become comfortable with a kennel.
No food or water for five hours prior to lift off. Also, make sure to arrive early to the airport as it could take a while.
Written by Damien Shields