Amsterdam is a world renowned city for a variety of reasons ranging from Heineken to "Coffee Shops". But for an international move from the USA to there is so much more to the city not just in terms of the culture and people but also the sights. Moving to Amsterdam from America is pushing yourself to be an expat in a world that is quite different from the USA.
We've included a brief guide and some useful information on the process for moving household goods to Amsterdam from your front door here in the US to your new home or residence.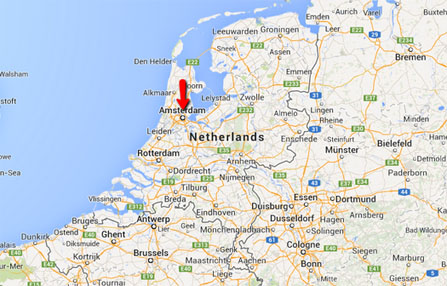 ---
How to Move to Amsterdam from the USA
Schumacher has been moving people to Amsterdam and back since 1977 with over 10,000 satisfied customers a year. Using our experience, we are able to help people complete their relocation stress free while keeping them well informed. To learn how to complete your household goods move, continue our guide below.
Steps for International Moving to Amsterdam
Calculate Volume of Goods
Get a Quote
Ship your Goods to Amsterdam
Receive your Goods Overseas
Volume
Before starting your move to Amsterdam, estimate the volume you want to ship. Once you have the size of your move, you will better understand the necessary services. Each move is unique and knowing what you are actually moving will allow you complete the process successfully. We can also work with you based on preset amounts such as a 2 bedroom apartment, though we'll want a more concrete number before the move.
How Much Does Moving to Amsterdam from the US Cost
Once you have a estimate for the size of your move, the next step is to complete a quote request. Each particular move will have a different price due to factors such as volume or origin. For this reason our representatives create custom quotes for every move to make sure you get the most accurate information. To illustrate the difference, the price for moving to Amsterdam from LA will be different than from NY even for the same goods.
Request a custom quote for your move through our Online Quote Form
Shipping Your Household Goods to Amsterdam
If you are bringing household goods via our sole container service as part of your relocation, your effects will have a direct shipment to the port of Rotterdam from the U.S. You will need a moving company for Amsterdam and the US like Schumacher Cargo.
*Schumacher Cargo's locations in the US include Los Angeles, Houston, New York, Savannah and Miami.
Complete the Move Overseas
Rotterdam is Netherlands's largest port. Once your container arrives it must clear customs and will be transported to a fully bonded warehouse by one of our overseas agents.
At the warehouse, it will be unloaded and prepared for local delivery to your new home.
Distance to Amsterdam from Port: 56.6 mi
This equates to about an hour or so of driving considering the route and things like traffic. So, if you are interested in picking up your household goods as opposed to having them delivered, it will probably take a little extra time.
Most of our clients choose to have their goods professionally delivered to their door.
---
Gaining Residency in Amsterdam as an American
The first thing that you'll want to do after moving to Amsterdam is apply for a residence permit depending on your status.
The process can take a little bit of time which is why it is important to get it taken care of sooner rather than later at the local administration offices or Gemeente.
There are multiple to choose from but you'll need to apply at the one in your district. In Amsterdam is a great resource for relocation information.
World Trade Center F-Tower
Strawlinskylaan 39
1077 XW Amsterdam
020 254 7999
---
Public Services
Although it's Holland's most populous city and most frequented by tourists, Amsterdam is only around 85 sq miles in size; making it very feasible to find a local police station, medical facility or public transportation close by to your new household.
Transportation
For those that have visited before, the main form of getting around the city is by bicycle. It is bike friendly and extremely accessible.
Public transportation is right around the corner as the city is compact yet has over 230 trams in addition to multiple trains, metro lines, buses and even boats to navigate the canals.
From the central station, you can access the majority of the city center and districts using a combination of the services above. Visit Amsterdam's transport agency schedules and maps.
Medical Facilities
There are multiple public hospitals quite near to one another. The main location near the city center is:
OLVG Hospital
Eerste Oosterparkstraat 279
1091 Ha Amsterdam
+31 020 599 9111
---
Things to Do and See
Dam Square(the city center)
National Maritime, Van Gogh and Rijksmuseum
Tour the Heineken factory
Walk the red light district
See the Anne Frank House
This city has so much to offer and it will be useful to know your new home even before the move to Amsterdam. So what are you waiting for?
Start Moving to Amsterdam with Schumacher
Get your free household goods moving quote today!
For further information on any of above, call and discuss your move with one of our Moving Specialists at: 800 599-0190 // 562 408-6677
Schumacher Amsterdam Mover Reviews