Shipping Goods to the Netherlands from the USA
International shipping to the Netherlands is popular as Holland is one of the most accessible and busiest European countries for overseas shipments.
Europe's biggest port is located in Rotterdam and two of the top ten ports in Europe are located in the small country. This makes the Netherlands a major shipping destination in the region not just for those relocating to the area but also for those transporting goods to other European destinations. For example, if you are going to be shipping a vehicle to Poland with our consolidated container service, you may have a quicker arrival date by shipping through Rotterdam or Amsterdam because our ocean freight services run more frequently to these ports.
Since 1977, we've gained extensive experience helping individuals and families ship to Holland. So if you need your items moved here, whether it's by air, sea, or a combination of both, we can move almost anything.
Read our guide below on how to ship to Holland from the USA and start your international shipment today!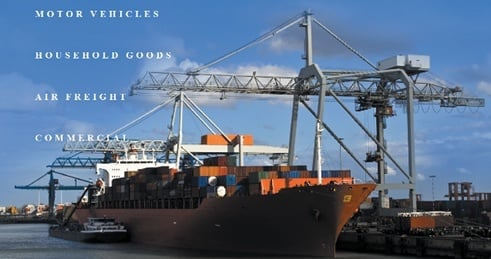 How to Ship to Holland
If you are shipping to Holland, you've come to the best resource. Shipments to the Netherlands from the United States are quite simple with Schumacher Cargo Logistics. Once you start your shipment with us, we can take care of all the major steps from door to door.
When shipping goods to NL, make sure to have details particular to your shipment in mind. Specifics you should have in mind are the type of good, origin, and destination. With this info we can begin working with you on your shipment.
Primary Items We Ship to the Netherlands:
The main international shipping services we offer to Holland are household goods and cars, as they are the most common. If you enjoy riding motorcycles, we can also ship your Harley, Indian or classic motorcycle.
For others, a day out on the water is more appealing and the Netherlands has some amazing waterways. We can ship your boat to Amsterdam just as easily. A few of our other services include pet transportation, furniture, oversized items, special commodities, and classic cars. If you are looking to ship something other than what's listed, chances are we can still do it.
How Much Does Shipping to Holland from the US Cost
The price for shipping to Holland depends on many different factors. Some of these factors are the good, services, and origin/destination. As an example shipping to Holland from LA will have a different price than to NY even with all things the same. For this reason, our representatives create custom quotes in order to provide the most accurate information to you.
Get your price to ship to the Netherlands with our Online Quote Form
How Long Does Shipping to Holland from the US Take
The same factors that affect cost also affect time.
Those shipping to Holland on the west coast can expect the container to be on the water for 4-5 weeks on average. On the other hand, shipping from the east coast generally takes between 3-5 weeks on the water. These shipping times do not include the time it takes for pickup/devery, consolidation, loading, custom clearance, as those have a much more variable duration.
As a premier shipper we work to make sure our shipments to the Netherland are as close to estimates as possible, but times may vary from any dates provided.
Container Shipping to Holland
Container shipping to the Netherlands is the most popular way to ship to the country. We offer two different types of container shipments: consolidated and sole use. Each has their own benefits that we'll go over.
Consolidated
A majority of container shipments to Netherland are done via consolidated container. The reason for this is that consolidations offer the most value for a shipment as you only pay for the volume you use. The goods are loaded together and shipped to the same base port which is Rotterdam in this case. Later they can be transported to anywhere from Rotterdam to anywhere in the country.
Sole Use
On the other hand, sole container shipping to the Netherlands involves sending your own personal container. We offer both 20 and 40 ft containers that hold 1000 and 2000 cubic feet of goods respectively. The main benefit of this service is quicker departure times. Since there is no period for consolidation, the goods can ship out to Holland as soon as they are ready to ship.
Major Dutch Shipping Destinations
Our shipping services to Holland serve the following cities as well as multiple other destinations. We offer door to door shipping to any city in the Netherlands so don't worry if your city is missing.
| | | |
| --- | --- | --- |
| Rotterdam | s Gravenhage | Utrecht |
| Eindhoven | Tilburg | Groningen |
| Breda | Apeldoorn | Nijmegen |
Shipping Facts for Holland
The Netherlands is one of the top 5 exporters in the World.
The flight from Los Angeles to Amsterdam takes around 11h30m.
There is more than 4,000 km of canals, rivers and lakes to navigate
More Holland Shipping Info
Fill our our Online Form and start your shipment to Holland.
For info on any of the above, call a Schumacher representative at:
US 562-408-6677 or Toll-Free 800-599-0190
SCL Netherlands Shipper Review