All roads lead to… Madrid? Well in the case of Spain, this is true as Madrid is literally lies at the center of country. Because of its location, it truly is the central hub for transportation and you'll not only be able to enjoy and explore this amazing city but also venture out to wherever you want to go. Before moving to Madrid, the first step for any relocation from the U.S. is the shipping of one's household goods and personal effects from home.
For international moves to Madrid, there are many different services we offer and the one clients select will determine whether they ship with a direct or transshipment service.
*Schumacher Cargo's locations in the US include Los Angeles, San Francisco, Houston, New York, Savannah and Miami.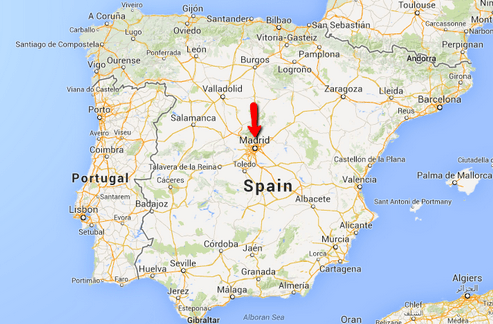 ---
Household Goods Relocation
When moving to Madrid, there are two main services to ship your household goods. These services are sole container shipping and shared container shipping. Each of these have different use cases and pros and cons.
Sole Container Moving to Madrid
If you elect a sole use container meaning that you move your belongings in a 20ft or 40ft container. The pro of choosing this service is that it will leave as soon are your move is ready. Alternatively, the con is this is more expensive than consolidations. Then your shipment will call either of the following ports directly:
After receiving the container, your goods will be unloaded at either the port or our agents warehouse and then delivered right to your door.
Consolidated Container Moving to Madrid
If you elect for consolidated service, there are more competitive rates. Though on the other hand, your shipment will take more time to ship. In some cases, household goods shipments are moved first to a country where a consolidation is ready and then transported to your new home in Madrid via land in order to reduce consolidation times.
---
How Much Does Moving to Madrid Cost
Moving to Madrid has different costs based on the different aspects of the move. This means that a move to Madrid from Los Angeles will have a vastly different cost than a move to New York even with the same amount of goods. In order to create accurate prices, our representatives create custom quotes for each individual move.
Start your move to Madrid by filling out our Quote Form or calling 800 599-0190 // 562 408-6677
Applying for Residence and Foreign Registration Number
This applies to those moving to Madrid from the U.S. for a period longer than three months. There are exceptions of course, but generally this is one of the first things to take care of.
To receive your NIE number, or Numero de Identificación de Extranjero, have to make an appointment at the local police station, fill out the Ex-15 form and bring all the necessary documents including copies and originals of the following:
Passport
Proof of Spanish address
Passport photos
Explanation of why you are applying(in Spanish)
The police station will have a special department for foreigners. This is the Departmento de Extranjeros, which is where you'll need to go.
The main office is located at Plaza de Campillo del Mundo Nuevo 3.
---
Public Transportation
Not only is Madrid a centroid in terms of the national transport system with long distance railways and trains, but the city also has one of the best city metro systems in the world.
It's also very affordable and convenient. Like any new city, it may take some time to get used to the area , but be patient as before you know it you'll be an expert.
If you are moving to Madrid and flying directly to MAD international airport, there are metro lines from Terminals 1,2,3 and 4. In the case of relocations from the USA, you'll find everything you need at the T1.
Ways to Get to the City
Bus: Line 200 or 204
Metro:Use the pink line from terminals 2 or 3
Shuttle
Top 10 Fun Reasons for Moving to Madrid
Over the years many expats have shared what they love about living in Madrid. The lifestyle in Madrid has a lot of differences to that of the States, and people love many things about living there. Here are a the top 10 reasons we've heard to inspire your move to Madrid:
Madrid is the capital and largest city of Spain, with a population of over 3.3 million people.
Madrid is the third-largest city in the European Union, after London and Berlin.
Madrid is known for its vibrant nightlife, with many bars and clubs staying open until the early hours of the morning.
The city is home to some of the world's most famous art museums. Some of those are the Prado Museum, the Thyssen-Bornemisza Museum, and the Reina Sofia Museum.
Madrid is also famous for its food, with a rich culinary tradition that includes dishes like paella, tortilla española, and churros con chocolate.
The Puerta del Sol is the central square of Madrid and is famous for its clock tower and New Year's Eve celebrations.
Madrid is a major transportation hub, with a busy international airport and a high-speed train network. Additionally this connects the city to other parts of Spain and Europe as a whole.
The city hosted the Olympic Games in 1980 and is a popular destination for sports fans. With world-class soccer teams like Real Madrid and Atlético Madrid, sports fans love living in Madrid.
Madrid's climate is characterized by hot summers and mild winters, making it a popular destination for tourists year-round.
Madrid is home to many beautiful parks and green spaces. This includes the Retiro Park, which is one of the city's most popular attractions.
Start Shipping to Madrid with Schumacher
Now that you've learned a little bit more about your new city, let Schumacher Cargo handle the tough parts of an overseas relocation.
Find out how much it costs to move household goods to Madrid by filling out our Free Online Quote Form!
For further information about making your move to Spain, call 800 599-0190 // 562 408-6677
Contact the Madrid Embassy to confirm your documents to live in Madrid.