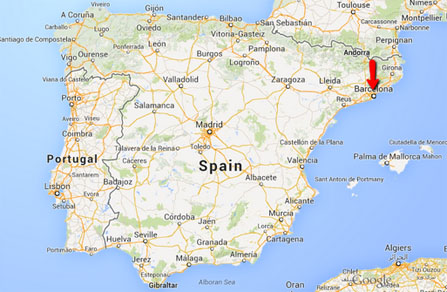 For those moving to Barcelona and wanting to ship household goods as part of their relocation, we offer full container services for larger moves and a shared container service for those that want to save money.
There are two major ports in Spain that we use when shipping household goods inside individual containers. They include the port of Valencia, Spain's largest, and Barcelona, which is the third largest.
Fortunately, we have services for both sole use and shared containers depending on your shipping needs.
*Schumacher Cargo's locations in the US include Los Angeles, Houston, New York, Savannah and Miami.
---
Competitive Rates
Despite the fact that it has the country's third largest port, not all container services call Barcelona's port directly.
With certain types of shipments, such as our consolidation, your household goods will be shipped via the UK for clearance before being transported to your new home.
The reason being is that the clearance is much easier and typically a lot cheaper than shipping directly to one of the Spanish ports.
If you are looking to move your belongings directly from one of our U.S. port locations to Barcelona, then clients best option is booking their own individual 20ft container.
From the port, your personal effects will either be transported to your residence or first taken to a nearby loading warehouse and then prepared for local delivery by our team of agents.
---
What to Do Upon Arrival
Bringing all of your effects from home is just one part of the overseas move. After arriving, you'll want to make sure that you take care of the proper bureaucratic processes.
The first thing that needs to be done to to apply for a residence permit, as those moving from the U.S. require this for stays over three months if you don't have dual citizenship.
With recent changes, applying for your Numero de Identificación de Extranjero, or NIE for short takes care of the residency permit. Pretty much everything else depends on this number.
The authority that handles the applications is actually the main police office in the city but there are additional foreigners offices nearby.
The next task is to register in your municipality at the town hall in which you moved to. Similar to in the USA, you'll need to submit identification and proof of residence like a lease agreement or some type of utility bill in your name that has your address on it.
Town Hall
Plaza de Sant Jaume, 1
08002 Barcelona, Catalonia
+34 934027000
---
Public Transportation
When you move to Barcelona from the U.S. and fly to its international airport, there are a few options for getting to the city if you do not have a vehicle or someone to pick you up.
You can always find a taxi, however using the airport transfer service will be cheaper and they have direct routes to the city center as well as the surrounding parts with minimal transfers.
From BCN, it will take around 25-35 minutes to get to the city center with the public transportation.
Options include:
Express Bus: Outside terminal 1 and 2
Taxi
Minibus Shuttle
Metro(not direct)
RENFE Train: With one transfer using the city metro
To reserve your ticket or look at the specific routes, visit www.tmb.cat.
As mentioned, you'll have options when moving to Barcelona with your household goods and we'll work with you to determine which method meets your needs.
Get a free shipping quote to see how much your move will cost!
For further information about making your move to Spain, call 800 599-0190 // 562 408-6677