Shipping Goods from the US to Spain
Our ocean freighters frequent both the Valencia and Barcelona ports which allow access for onward transportation into the rest of Spain. From one of these two ports, we transport your cargo to its final destination either via road or rail-road service. Our flexibility in service makes cargo shipping to Spain from the USA easy.
There are more than 20 cities in Spain with a population greater than 200,000 and a large portion of our international shipments and services to Spain end up in Madrid, Barcelona, Valencia, Seville or Malaga.
Some additional cities where you may need your goods shipped include:
Granada
Las Palmas
Toledo
Alicante
For any other city or town in Spain you need goods shipped to from the U.S, there is a good chance Schumacher can get them there. The best way to determine whether that would be possible is to fill out our Online Quote Form or contact one of our experts at 800-599-0190.
Also read our guide on how to ship to Spain below and start your international shipment today!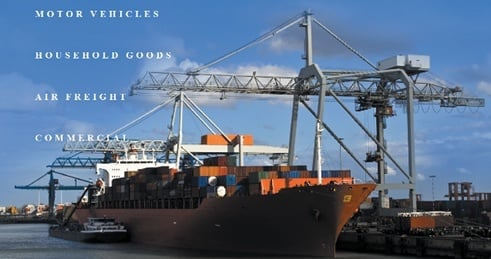 How to Ship to Spain with Schumacher
Generally, our international services to Spain deal with either household relocations or overseas vehicle shipping. When individuals or families move overseas to Spain, they find it easier to ship their car from the US rather than try to buy one after arriving. There are certain regulations that must be met and customs requirements for shipping a car to Spain. Though we can thoroughly explain them to you once you work with us.
Some other commodities and goods that we can ship to Spain from the US include:
Under certain circumstances, we also ship specialty goods and other types of items that won't fit inside a standard container.
How Much Does Cargo Shipping to Spain Cost
There are many things to consider when pricing an international shipment. Costs will vary by carrier but there are some variables to look at to get an idea about the costs associated with using an international shipping service to Spain.
For instance, depending on where your cargo is leaving the US from will influence rates. International shipments from the east coast will be cheaper as it is a few thousand miles closer to your Spanish destination.
You can view all of our US shipping locations to find out which point is best for you. Additionally, the size of what you are shipping will always determine price differences. Compact cars are naturally less expensive to ship to Spain than a large SUV for example.
Visitors can fill out a quick quote using our online form. You'll get a customized quote for your international shipment to Spain based on your specifications.
How Long Does Shipping to Spain Take
The time it takes to ship to Spain also depends on your personal details. Sea transport has a general time frame of 3-5 weeks from the East Coast, but the other factors can add to this. For example the port to port times do not include the time it takes to transport to the port in the US or the time for customs clearance on both sides. Also shipping from the West Coast takes more time as well.
Container Shipping to Spain
Container shipping to Spain is the most popular way to bring goods to the country. We offer both 20 and 40 foot containers that hold 1000 and 2000 cubic feet respectively. The container offers protection for your goods while they travel on the sea and are sealed to prevent anything from getting in and out. Depending on what type of shipment you have, we offer different services like consolidated container shipping or secure auction shipping. Your Schumacher representative will advise you on what the best way to move your goods are once you begin working with them.
Brief Facts about Spain
Spain is a little more than twice the size of Oregon but has a population of 47.3 million
There are almost 5000 miles of beaches in Spain and it's the 4th largest country in Europe
The shortest distance between the south of Spain and Morocco is only 8.7 miles
More Spain Shipping Info
To start your cargo shipping to Spain fill out our online quote form today!
For more info regarding any of the above, call in at US 562-408-6677 // Toll-Free 800-599-0190
SCL Spain Shipper Rating