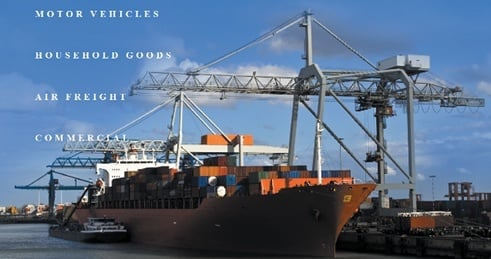 Shipping from the U.S. to Australia
Australia has become a very popular destination for relocating overseas and one of the largest markets for international shipping services of equipment and personal vehicles.
Much of the population resides on either the eastern or southeastern coasts of the country with the exception of Perth in the west.
The main ports used for trade and international shipping services to Australia are Melbourne, Sydney and Brisbane and if you are relocating to Australia or shipping cargo there is a good chance you will be dealing with one of these.
We have years of experience shipping cars, motorcycles, household goods, yachts and other precious goods. So whether you're moving from Florida to Sydney or you need your classic car shipped from Los Angeles to Melbourne, our team can ship your goods safely and take the stress out of the equation.
What Do You Want to Ship?
We have more than 10,000 shipments to Australia under our belts. With container shipping we pride ourselves in protecting your special cargo and making sure it arrives in tip-top shape.
We have a variety of different services to Australia. They include:
Motorcycles shipping
Relocation of personal effects
Boat/Yacht transport
Major Shipping Destinations for Australia
Our shipments reach numerous locations across Australia. Below are some of our most popular destinations and if you don't see your city on the list, don't get discouraged. We can arrange a delivery to your specific town.
| | | |
| --- | --- | --- |
| Adelaide | Brisbane | Bunbury |
| Burnie | Cairns | Dampier |
| Darwin | Eden | Esperance |
| Fremantle | Gladstone | Geraldton |
| Hobart | Kembla | Launceston |
| Melbourne | Newcastle | Sydney |
Receiving a Shipping Quote
For anyone who has ever dealt with overseas shipping to Australia before, you'll know that there are a lot of variables involved, so the more information we can get from you the better it will be.
The costs will depend on the final destination, items being shipped and with what shipping service. Visit our international shipping service page to see what information you should have on hand when you contact us for your quote.
Each international container shipment to Australia will have a different cost so fill out our Online Quote Form to get your price today.
We look forward to helping you with your international shipping needs to Australia!
Australia at a Glance
There are a large number expats living in Australia and most live in Sydney.
It is 7,499.95 miles from Los Angeles to Sydney but 9,346.09 to Perth!
The seasons are opposite of those in the northern hemisphere. So winter in the US is actually summer in Australia
To stay up to date with changes make sure to visit the resources from the US Department of State.
and US Embassy.
Start your international container shipment with SCL by filling out our Online Quote Form or calling in at Toll-Free: 800-599-0190 // US: 562-408-6677
SCL Container Shipping to Australia Reviews