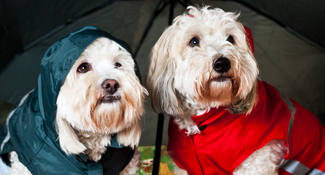 Attention: The following information should be used as a general guideline. Requirements for each country can change frequently so make sure to contact the proper authorities before you travel to the UK with a pet.
Pet Travel to the UK
You don't need to leave your pet behind just because you've decided to travel or move to the UK. For those who want to bring their beloved animal, relocating pets to the UK takes planning and preparation.
Make a checklist of all the things that your pet needs to have done before leaving. Add deadline/cutoff dates to a calendar to ensure that everything is valid.
Entry into the UK under the Pet Travel Scheme
The main rules regarding moving pets to the UK are laid out in the following steps.
Get your pet microchipped with either an ISO 11784 or 11785 microchip
Have your pet fully vaccinated (rabies, distemper, cat flu, etc.)
30 days after the rabies vaccination, have your vet take a blood sample for testing. Only EU approved labs can perform the titre test
Obtain an official veterinary health certificate and get approval from APHIS/USDA
Get the test results of the blood test. The result must be a pass. You'll have to wait 3 months.
Make sure your pet is traveling into the UK using an approved route
Return to your vet for tapeworm treatment. Must be 1 to 5 days before your pet arrives in the UK and it needs to be recorded on the vet health certificate.
Of course the actual process will require additional information, but this is a good overview of what needs to be done before you can travel or move to the UK with your pet.
Approved Transport Routes for Pets
When it comes to selecting your route, this will depend on which method you want to transport your pet into the UK with. There are multiple options with the two most common being air and sea.
When traveling with a pet via plane, make sure that (1) your airline allows for pet travel and (2) it is one of the approved routes for pets.
This is important because you will need to accompany your pet upon after it arrives in the UK and if you end up at different airports, it could be a hassle.
For those moving pets from the U.S to the UK by way of the ocean, your options are more limited. The only route leaves from New York and goes to Southampton.