When most people think of Italy, they think of Rome not just because it is the country's capital but also because of its history, tourist attractions, and amazing culture. We know that moving to Rome can and should be an exciting time but whenever it comes to relocating to another country, shipping ones household goods and personal effects is part of the process most people dread. Depending on your status and the intent of the move, there will also be things you need to take care of after arriving like registering with the proper services, which we will also address.
Read our guide on how to move to Rome below and start your relocation today.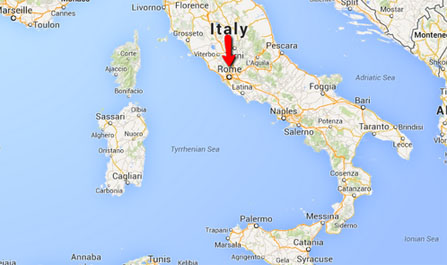 ---
Relocating Household Goods
Those moving your household goods to Rome from the U.S. will have multiple options for departure ports and there are a few different locations where your shipment could enter. Additionally, most international shipments for households are via containerized services.
Containers will generally enter through one of the following ports:
From the port, your goods will either be transported directly to your residence in Rome or be taken to an unloading warehouse where we can prepare it for local delivery. The exact process may vary depending on which of our relocation services you select.
Which Part of Rome are You Moving to?
Rome is Italy's most populous city with a population over 2.6 million and is located in the region of Lazio.
We understand that not everyone is moving to the city center and there are lots smaller districts. So other than the historical center and modern city center, these are a few:
Testaccio
Prati
Monteverde
Trastevere
Trieste
San Lorenzo
Our local delivery team can help move your belongings to anywhere in the metropolitan and surrounding areas/suburbs.
---
Public Transportation
Those moving to Rome can expect the public transportation to be accessible but will find that it's not always a walk in the park.
There are tourists going in and out of the city year round and combine the added number of people with limited driving space, or space in general, and things can of course get cluttered.
However, for getting around, you can always choose from buses, trams and subways. Most of the two major subway lines, A and B, are probably the best for daily excursions.
From Rome's main train station, most forms of public transport are fairly accessible in addition to their regional trains and expressways that run to the main international airport.
Chances are that if you are planning an international move to Rome, you'll fly into Leonardo da Vinci International Airport.
From there the best way to get into Rome is using either the Leonardo Express train, Terravision bus lines, or local bus services that run to the main train station.
---
Local Authorities to be Familiar With
Which authorities you need to register with or visas you need to apply for with depend directly on your situation. Some of the common visas include research, work, and spouse or family visa.
Some are regulated by the national government others will require additional processes at the local level. Such is the case obtaining a residence permit or residence certificate assuming you have your visa.
For that you will need the immigration office, post office, or local commune in Rome. Each municipality has a dedicated Commune so make sure to register with the correct one. Unfortunately, it's only in Italian but the Roma Site is where you can find the nearest location. They do offer a google translate feature to help out though.
---
How Much Does Moving to Rome Cost?
The price to move to Rome depends on your specific move. Both the volume and origin of the goods play a large role in the overall cost. Since there is a lot of variation, our representatives create custom quotes for each shipment. Fill out our Online Form or contact Schumacher today at 562-408-6677 to get a competitive rate!
---
Why Move to Rome with Schumacher?
There's a lot of steps even after moving to Rome but it all starts with shipping your household goods and personal effects. Since 1977, Schumacher Cargo Logistics has been a premier international moving company. With thousands of shipments each year, we are able to get you the best rates to move to Rome from anywhere in the USA.
Rome Moving SCL Reviews