Overseas Shipping to Switzerland
International cargo bound for Switzerland is slightly more complicated than for other European countries due to its geographic location. It's landlocked by France, Italy, Germany, Austria and Liechtenstein. Because there are no direct seaports in the country, goods are transported to their final destination in Switzerland through rail and truck service. However there is also one exception using the Rhine River waterway into Basel. The kinds of goods you are shipping to Switzerland dictate the overall route taken.
Since 1977, Schumacher Cargo Logistics has completed thousands of shipments to Switzerland and can facilitate your door to door move. Read our guide on how to ship to Switzerland from the USA and start your shipment today.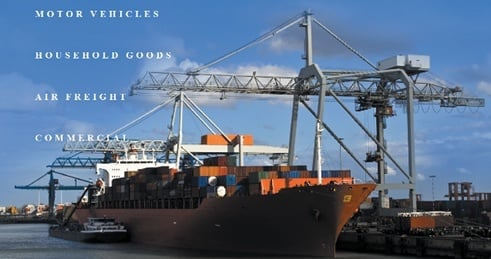 How to Ship to Switzerland
When shipping to Switzerland, start with the details particular to your shipment. A few things you should have in mind are the type of good, origin, and destination. With this info we can begin to work with you on your shipment.
Types of International Shipments
Shipments from the US to Switzerland are usually two types of commodities: household goods and vehicles.
Our representatives will be happy to assist you if you need your shipment transported to a different destination in Switzerland.
Additionally, if you need other items shipped internationally from the US to Switzerland, we also ship classic vehicles, motorcycles, and boats.
Where Are You Shipping From in the US?
Our international shipping services include multiple warehouse locations across the US. We'll first arrange to have your cargo picked up and taken to one of them and then loaded for its Swiss destination.
So whether you need to get your effects to Switzerland from the Midwest, East or West Coasts or the South, Schumacher will make it easy.
Distance from Basel to other Major Swiss Cities:
Zurich – 86.2 km(54 miles)
Berne – 98 km(61 miles
Geneva – 253 km(157 miles)
How Much Does Shipping to Switzerland Cost?
The cost to ship to Switzerland depends on many different factors. Some factors include the type of good, origin, and service type. For instance a shipment to Switzerland will have a different price from LA or NY even with everything else the same. Because of this, we have our representatives create custom quotes for each shipment. They look into the best routes for both sea and land in order to get you the best prices available at the time.
Get the best price for your shipment to Switzerland through our Online Quote Form
How Long Does Shipping to Switzerland Take?
Shipping to Switzerland takes a longer time than most of the other European countries. This has to do with the landlocked nature of the country, which means there is another stage of transport.
The approximate sail times for cargo being shipped port to port via ocean freight is 5-7 weeks. Port to port times do not include the time it takes to transport to the port in the US or the time from the European base port to Switzerland.
Container Shipping to Switzerland
Our main way to ship to Switzerland is through container services.
When shipping to Switzerland we offer two types of container services: consolidated and personal.
Consolidated Container Shipping to Switzerland
Consolidated container shipping services are when your goods are grouped with other customers going to the same location. In the case of shipping to Switzerland, the goods can be consolidated with goods going all over Europe. This means that the consolidation time can go down drastically and the groupage finishes more quickly.
Personal Container Shipping to Switzerland
We also offer exclusive use of 20 and 40 foot containers to Switzerland. This service's benefit is there is no wait time to ship once we have your goods and documentation. When using this service the overall shipping time will be faster. The tradeoff is that the cost is higher because they are not split with other people shipping.
Air Freight to Switzerland
Alternatively we also offer air freight to Switzerland. This service is the fastest way to complete your shipment, but the cost increases to match this speed. Generally this is used for expensive items like grand pianos or for deadlines such as a car show. However some have used this service for regular shipments to Switzerland as well.
More Info
If you are ready to start shipping to Switzerland from the US, fill out our Online Quote Form.
For any additional info regarding any of the above, call in at US: 562-408-6677 or Toll-Free: 800-599-0190
SCL Switzerland International Shipper Reviews