Moving to Italy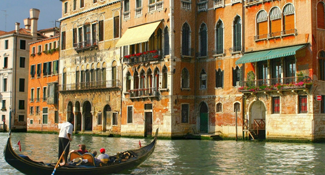 Moving Your Household Goods and Personal Belongings to Italy
Interesting Facts to Know Prior to the Move to Italy
I know this may sound cheesy, but pizza was invented in Naples around the 1860s.
Italy has 16 regions and 4 autonomous regions.

Italy is about the same size as Arizona
Ferrari, Lamborghini, Maserati, Fiat all hail from Italy
Foreign person wishing to reside in Italy, must have a valid entry VISA
Population of about 60 Million
VAT for 2013 is set at 22%
3 Different Ways to Ship With Us
Shared container service
Exclusive use container

10 Major Cities in Italy we ship Household Goods to:
| | | |
| --- | --- | --- |
| Rome | La Spezia | Milan |
| Venice | Naples | Trieste |
| Turin | Florence | Genoa |
| Sicily | | |
Personal Income Tax Resources:
Taxation of an individual's income in Italy is progressive.
For 2013 the tax rate for an individual is between 23%-43%. There are however additional taxes to consider such as Italy's regional tax and municipal tax of 1-2% and .1-.8% respectively.
The standard corporate income tax in Italy for 2013 is 27.5%. In addition, a local tax is imposed at a rate of 3.9% usually, bringing the effective tax rate to 31.4%. With all these tax variables, you may be considering a move to Switzerland or Austria!
After you have moved to Italy, you'll be liable for tax on your income as an employee and on income as a self-employed person if the second case applies. Also, for those with Italian residency, you will also be taxed on the income you earned overseas.
Certain payments are deductible from taxable income as detailed below.
Italy individual income tax rates 2013
| | |
| --- | --- |
| Tax (%) | Tax Base (EUR) |
| 23% | 0 - 15,000 |
| 27% | 15,001-28,000 |
| 38% | 28,001-55,00 |
| 41% | 55,001-75,000 |
| 43% | 75,001 and over |
3 Tips on Pet Transportation Services to Italy
Dogs also be vaccinated against hepatitis, distemper and kennel cough
Cats must be protected against feline gastro-enteritis and typhus.

All certificates must be in both Italian & English as well as completed EC998
For further information on any of above, call and discuss your move with one of our Moving Specialists at: 800 599-0190 // 562 408-6677
Written by Martyn Cohen