Transporting Goods Overseas to Sweden
Sweden's location at the center of the Scandinavian region makes it a strategic international link between the Baltic Sea and North Sea. Even though it has a population just over 9 million, most inhabitants are concentrated around a handful of urban areas. Most international container shipping services to Sweden run through Gothenburg, Helsingborg or Stockholm. Stockholm is the capital city and the largest. However, its second biggest city, Gothenburg, handles the most overseas shipments to Sweden and is the country's biggest port. The primary port that we work with in Sweden is the port of Gothenburg. This is the main point of entry for our containers shipped from the US.
Read our guide below on how to ship to Sweden and start your international shipment today!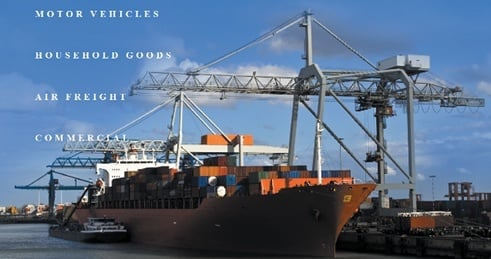 How to Ship to Sweden With Schumacher
When shipping to Sweden, you'll need a few details to get together. A few of the things you should have in mind are the type of good, origin, and destination for shipping. With this info we can begin to work with you on completing your shipment.
Goods We Can Ship Overseas to Sweden
Items that we have extensive experience shipping to Sweden include:
The vast majority of cargo deals with these two commodities but we offer additional services for those who would like to securely ship classic vehicles and motorcycles, boats, and we arrange cargo and oversized shipments to Sweden as well.
How Much Does Cargo Shipping to Sweden Cost
The price to ship to Sweden depends on factors particular to the shipment. These costs include the type of items as well as location. Your costs may include a combination of sea travel and land transport or could be only port to port as well. For example, shipping a car from LA will be vastly different than shipping a 2 bedroom home from NY. Since there is variation, our representatives create custom quotes for each shipment to Sweden.
Fill out the form online at the top of the page and our professionals will contact you with your custom shipping quote.
Major Cities
Below is the list of the most popular cities in Sweden we deliver to. Beyond those, we can actually ship anywhere in the country.
| | | |
| --- | --- | --- |
| Stockholm | Goteborg | Malmo |
| Uppsala | Vasteras | Orebro |
| Linkoping | Helsingborg | Jonkoping |
---
As mentioned earlier, our international shipping services to Sweden run through Gothenburg. Further transportation from the port can be arranged by one of our overseas agents.
Another option for individuals shipping items to a destination in the south of Sweden is shipping to Copenhagen, Denmark as this port is closer to both Helsingborg and Malmo. You will of course be dealing with additional customs.
International Shipping Services
Consolidated Container Shipping to Sweden
When you are shipping goods to Sweden and you do not have enough to fill a container, we offer consolidated container service. This is our most popular service as it allows customers to get the best value for their size. Your goods are loaded into a container with other customers shipping to Sweden. This allows you to pay for the space rather than for the use of the whole container.
Sole Use Container Shipping to Sweden
If you have enough to ship or need to skip the consolidation period, we also offer sole use containers. Our main options are 20 and 40 foot containers that hold 1000 and 2000 cubic feet respectively. This may be more expensive if not near capacity, but for some having the goods earlier is worth the difference.
Air Freight to Sweden
We also offer air freight service to Sweden if speed is the absolute necessity. This service is the fastest way to complete a shipment, however it is also the most expensive. In most cases air freight is used to ship rare items or to make a event/deadline. Though there have been times where people use air freight for regular shipments, it is generally cost prohibitive.
Country Information
Sweden has a stable import/export landscape with the majority of exports coming from the engineering sector. More specifically, over a third of all exports from Sweden are machinery followed by motor vehicles.
International imports to Sweden are primarily composed of machinery/equipment and oil. If you are planning on importing motor vehicles into Sweden from the US, our resource will let you know how this can be done.
Sweden is the third largest country in Western Europe. It's slightly bigger than California
Swedish people have one of the highest life expectancies in the world
From our shipping warehouse in New York, it is 3,766.94 miles to Gothenburg
In 2004 a bill now allows residents to pay for taxes via SMS
More Sweden Shipping Info
If you're ready to start shipping to Sweden, fill out our online form and work with Schumacher on your international shipment.
For more info on any of the above, call in at US 562-408-6677 // Toll-Free 800-599-0190
SCL Sweden Shipper Rating