Need Shipping to Norway?
With a land mass slightly larger than New Mexico, Norway is home to 6 main ports and roughly 15 standard airports which feed its import/export industry. The main ports for international shipping to Norway are located in Bergen and Oslo.
The port of Oslo is Norway's largest in terms of yearly containers and total cargo. Almost half the population of the country lives within a few hours of the port, so if you are going to be shipping items overseas to Norway or moving to the country, this will most likely be your entry point.
We have multiple shipping locations across the U.S from which your goods may depart, however, the majority of the cargo that is shipped to Norway leaves from our east coast facilities located in Miami and New York. Our other shipping locations include Los Angeles, Houston and Savannah.
Read our guide on how to ship to Norway from the USA below and start your international shipment today!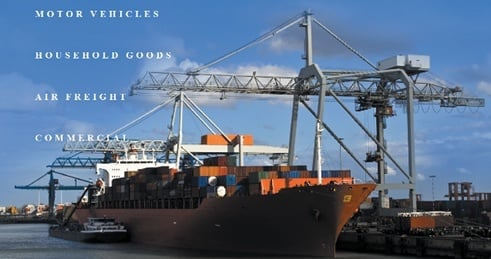 Why Ship to Norway with Schumacher
With over 40 years of experience shipping internationally to Norway and thousands of shipments to the country under our belts, we can transport almost anything via ocean freight or air and ship it.
Our areas of expertise include complete household relocation, vehicle shipping, boat/yacht transport, and classic car exports and much more. So whether you need a moving service to Oslo that can move all your household goods or one that can ship your cars and other vehicles to Norway, our professionals can make the process easy on you.
How to Ship to Norway
When shipping to Norway, start with the details particular to your shipment. Keep in mind the type of good, origin, and destination. With this info we can begin to work with you on completing your shipment.
What are you Shipping to Norway
As a fully licensed, bonded and insured international shipping company, we can ship almost anything to Norway.
Household Goods/Furniture
Vehicles
Motorhomes and RVs
Equipment
Cargo and Freight
What is Your Destination in Norway
The majority of international shipments and relocations to Norway are either to Norway's capital city, Oslo, Bergen, or Stavanger. However, our transport routes reach other Norwegian cities and towns.
These are Norway's most popular destinations:
| | | |
| --- | --- | --- |
| Oslo | Bergen | Stavanger |
| Trondheim | Fredrikstad | Drammen |
| Porsgrunn | Kristiansand | |
How Much Does Shipping to Norway Cost
Calculating the cost of a shipment to Saudi Arabia needs detailed information about the vehicle or household goods for accuracy. Many different factors affect the price such as origin. For example shipping to Saudi Arabia from LA has a different price than NY with everything else the same. Since it can vary, our representatives create custom quotes for each individual shipment.
Fill out our Online Quote Form for your cost to ship to Norway
How Long Does Shipping to Norway Take
The time it takes to ship to Norway depends on the origin and the service used. With a full container from the West Coast, port to port time is approximately 6-8 weeks. From the East Coast, port to port time is approximately 4-6 weeks. Additional time needs to be added for inland transport and consolidated shipments.
Container Shipping to Norway
Our container shipping service is the most popular for Norway. We offer two different types of container shipping: consolidated and exclusive. Each of these have their own benefits that suit different shipping needs.
Consolidated Container
When shipping a consolidated container, your goods are filled in a container with other customers. In this case, shipping this way offers the best value as you only have to pay for the space you need. These shipments all consolidate to the base port with the best rate as all the items need to travel together. We then organize inland transport for the goods if necessary.
Exclusive Container
On the other hand, an exclusive container service is when a container is shipped individually. We have both 20 and 40 foot options which hold 1000 and 2000 cubic feet respectively. A major benefit of these shipments is the shipment leaves more quickly as you don't need to wait for others to ship. You also have the option to ship to your port of choice in this instance.
More Info for Shipping to Norway
Fill out our Online Quote Form and start shipping to Norway with Schumacher today
For more info on any of the above, call one of our representatives at US: 562-408-6677 or Toll-Free: 800-599-0190
Fun Country Facts for Norway
The Northern lights are a common site in northern Norway.
During summertime, it doesn't get dark in the north. 24 hours of daylight!
It's not uncommon for someone moving to Sweden to actually work in Norway.
SCL Norway Shipping Reviews