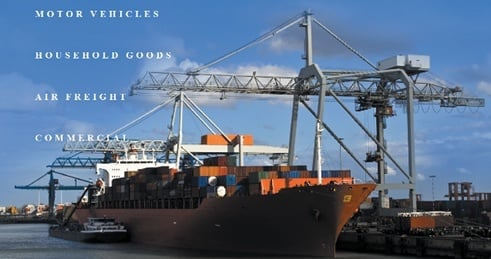 Shipping to Denmark from the USA
Having helped many Americans ship their cargo and relocate to Denmark, we're confident our services can assist you with all of your international shipping needs to this Nordic country.
Schumacher has thousands of overseas shipments under our belts. We've helped entire families relocate to Copenhagen and shipped everything from collectible cars to classic motorcycles to Roskilde. So whatever it may be that you want to transport, we'd love to work with you.
Items we can ship for you to Denmark include cars, boats, yachts, motorcycles, household goods, and other precious goods. We can even ship your pets to Denmark!
Shipping Services to Denmark
Our main shipping service to Denmark is through containerized shipments.
We offer both consolidated and exclusive container services which each have their own benefits.
Consolidated Container
With consolidated shipping to Denmark, a container is loaded with goods from multiple people. In regards to cars, 2-4 cars are loaded depending on size. For household goods, the containers are filled with loads of varying sizes. This type of shipment is the most popular as it offers the best value with the protection of a container. The tradeoff of this the time to ship takes a bit longer as the container has to be filled by multiple customers.
Exclusive Container
We also offer exclusive use of 20 and 40 foot containers to Denmark. This service's benefit is there is no wait time to ship once we have your goods and documentation. When using this service the overall shipping time will be faster. The tradeoff of this is that the cost is higher because you don't split costs with other people shipping.
How Much Does Shipping to Denmark Cost?
The cost to ship to Denmark depends on many different factors. What you are shipping will be the biggest factor. For example the price of a car is going to be different than a pallet of goods. Also the origin will play a factor as well where shipping to Denmark from LA will be different than NY. Since there is so many variables, our representatives create custom quotes for every shipment to Denmark.
To get a quote for your shipment, fill out our Online Quote Form
Where Are Your Goods Going?
The cities we have listed are the major port destinations; however, our international shipments reach many places across Denmark using different combinations of services including air freight, ocean liners and mainland transport.
Once we know exactly where your goods need to go, we can make the appropriate arrangements for delivery. Just give us a call and talk with one of our experts.
| | | |
| --- | --- | --- |
| Copenhagen | Aarhus | Odense |
| Aalborg | Esbjerg | Randers |
| Kolding | Roskilde | |
Shipping Regulations for Denmark
No matter what you are shipping to Denmark, it's important to have a general idea of the controls and regulations in place. Customs duties and taxes will depend upon the items being shipped, the weight, method of delivery and country of origin among other things.
Obviously it's cheaper and easier to ship a few items than it is to ship your household goods or motor vehicle to Denmark.
Overseas shipping to Denmark also depends on whether effects are new or used. Additional taxes generally apply for goods transported to Denmark that were not subject to sales tax or a goods and service tax.
Country Facts for Denmark
There is only about a 530ft different between Denmark's lowest point and its highest.
Denmark is one of the most expensive places to own and drive a car in Europe.
A little less than a quarter of the entire Danish population resides in the Copenhagen area
It is 5,593.58 miles from Los Angeles to Denmark.
To stay up to date with changes make sure to visit the resources from the US Department of State. and US Embassy.
More Denmark Shipping Info
If you are ready to ship to Denmark, fill out our Online Quote Form today!
SCL Denmark Shipping Reviews