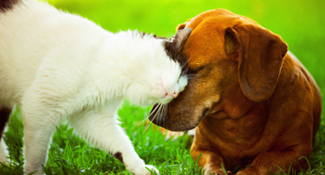 Attention: The following information should be used as a general guideline. Requirements for each country can change frequently so make sure to contact the proper authorities before you travel to Belgium with a pet.
Belgium Pet Travel Requirements
If you or someone you know is moving to Belgium or just traveling there, they may want to bring their pet(s) along with them. It is not as hard as some may think, your pet just needs to meet specific requirements.
As the case with international pet relocation, the first thing that you need to do is have your dog or cat implanted with an identification microchip. Belgium only recognizes two versions:
ISO Standard 11784

ISO Standard 11785
If you feel the need to branch out and use another type of microchip you will need to buy your own scanner. They can be pretty expensive and it'll need to stay with your pet through the import process.
Another form of identification which pet owners must have is a pet passport. Between the microchip and this your pet should be easily identifiable.
Getting Vaccinations Done Before You Leave
There are a few vaccinations and tests specific to the two most common household pets: dogs and cats.
Depending on which type of animal you are bringing along with you to Belgium, it may take a little more effort.
All dogs need to be tested and vaccinated for rabies, parvo, hepatitis, distemper and a few other ones. Make sure they are performed by an accredited vet.
Cats have specific tests as well that your vet should know about. In the case of both animals, vaccinations need to have been done within the previous year.
Forms You Will Need Completed
The two certificates that you will need initially are the EU vet health certificate and USDA endorsement. The health certificate should be completed no earlier than four months before arriving in Belgium and you'll get his from your vet.
After this form is complete, you'll need it along with a letter from the vet clinic and your pet's rabies certificate in order to get approval from the USDA.
Ten days prior to departure you will need to ask your veterinarian to complete an international health certificate (APHIS Form 7001) for your dog or cat. Make sure that Belgium is the final destination.
Always make sure that the documents mentioned above are with your pets at all times.
The last thing you will need to apply for is the actual pet import permit for Belgium.
Without this your pet will not clear customs or be allowed into Belgium.
Written by Damien Shields