With well over 10,000 shipments to Belgium under our belts, we know how the transportation process works and will make sure your things are shipped securely at a great rate. So whether you are transporting your motorcycle to Brussels or have been relocated to Antwerp for work and need to move your family and household effects, we can get you there. Container shipping to Belgium doesn't have to be difficult and Schumacher Cargo Logistics can take care of it from start to finish.
We ship containers to all major cities in Belgium including Bruges, Brussels, Gent, Hasselt, Charleroi and La Louvière. If you are relocating to a smaller town or city other than the ones listed above or just need something shipped to the country, we can make arrangements to deliver to your specific destination in most cases.
Additional shipping services include boat and yacht transportation to Belgium, classic car shipping, and oversized cargo.
Read our guide on how to ship to Belgium below and start your international shipment today.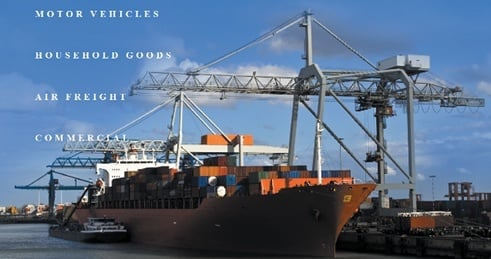 How to Ship to Belgium from the USA
If you are going to be shipping from the US, there are five different locations that we can ship from. Which one you ship from will influence the overall costs to ship your goods to Belgium. Our five different locations in the US are Los Angeles, Houston, Savannah, Miami and New York.
With over 40 years of experience shipping to Belgium, Schumacher Cargo Logistics can handle every step with ease.
How Much Does Shipping to Belgium Cost?
Giving a generic figure for the costs of shipping to Belgium is something that isn't possible to do. Each and every customer has different requirements and different costs associated with their goods. For example, shipping a full container to Belgium from LA will be vastly different than a single sedan from NYC.
Contacting Us for Your Shipping Quote
This is the quickest way to get an international shipping quote for Belgium. Before you call make sure you have all your dates in order including US pickup, arrival deadlines and the address for the items final destination in Belgium.
Other factors will vary depending on whether you are moving your household goods, a vehicle, or need specialty shipping.
Since each container shipment to Belgium is different, please fill out our online form to get a quick and accurate quote. We will be happy to answer any questions you may have dealing with your international shipment to Belgium.
How Long Does Shipping to Belgium Cost?
Many factors will affect how long your shipment takes. In most cases, sail times, meaning time on the water from the east coast to Belgium will be around three weeks. From the west coast it is usually 30 days to all base ports. Generally, door to door shipping to Belgium takes about 7-9 weeks, but there are shipments that are shorter or longer.
We work consistently to meet our estimate but these should serve more as a guide than exact times.
Shipping Services to Belgium
We offer door to door shipping to almost all destinations in Belgium. When actually selecting a service, we offer 3 different types: Consolidated Container, Exclusive Container, and Air Freight.
Consolidated Container
Our consolidated container service is the best value for almost all shipments. What this means is your goods are shipped with others shipping to Belgium in the same container. In this case, you only need to pay for the space you use which is why it is the best value. The con is that the goods can't leave until the container is full, so shipments take a bit longer.
Exclusive Container
Comparatively, exclusive container service gives our customers more control over their shipments. We offer both 20′ and 40′ containers, so we can accommodate different sized shipments. Benefits include more port choices and faster departure times. The con for this is the price is going to be higher since you are using the full container for yourself. Though if you can fill the container this con doesn't apply.
Air Freight
As the fastest alternative to container shipping to Belgium, we also offer air freight services. With this, your shipment is delivered via plane. Air freight can cut down shipping times massively, but is also a much more expensive service. This service is best chosen when speed is necessary and cost doesn't matter.
Interesting Facts About Belgium
We moved more than 500 Americans to Belgium last year .
Most expats live in the capital city of Brussels.
It is 5,613.46 miles from Los Angeles to Brussels.
To stay up to date with changes make sure to visit the resources from the US Department of State and US Embassy.
Languages in Belgium
Whenever you deal with international shipping, it is important to know the languages spoken in each country. It isn't impossible to get by speaking English but as often the case when shipping items through customs and across borders, documentation in multiple languages may sometimes be required.
They actually speak 4 languages for the residence and therefore documents may require additional translations. So depending on which region you are shipping goods to or moving, the actual language spoken may be French, Dutch, German or Flemish.
More Belgium Shipping Info
To begin shipping a container to Belgium from the USA, fill out our Online Quote Form.
For more information regarding international shipments to Belgium, call in at:
Toll-Free: 800-599-0190 // USA: 562-408-6677
SCL Container Shipping to Belgium Reviews