Car Shipping Services to Norway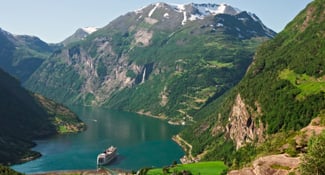 We Offer Consolidated Container Services via Oslo to;
Bergen
Stavanger
Trondheim
Fredrikstad
Drammen
Porsgrunn
Kristiansand
*Consolidated services refer to larger containers with multiple vehicles rather than just one.
Our Roll On Roll Off Car Transport Service to Norway
RO/RO is also an option when considering larger vehicles and oversized international container shipments to Norway . The main port for this shipping method into Norway is in Oslo. After your cargo arrives at the port, it is then transported to the final destination.
You may also want to be familiar with the guidelines involved in vehicle transport to Sweden depending on your proximity to Norway's border with the neighboring country
If you are interested in this particular service and would like more information. Contact one of our representatives and they can work on getting you a customized quotation.
Things to Know Before Shipping Vehicles to Norway
It's recommended that persons consolidate the Norwegian Public Roads Administration first to determine what mechanical requirements the vehicle will be subject to prior to registration.
After arriving in the country, you have 1 to 3 days to report to the local Customs and Excise office.
The NPRA requires inspection at one of its traffic services offices of all second-hand vehicles shipped into Norway
The value added tax for vehicles imported into the country is 25%. The percentage is based on the customs value. This number is calculated as follows: Customs value = purchase price + freight costs + insurance costs to the Norwegian border.
Norway's Temporary Conditions for Duty and Tax Exemption
You must have permanent residence outside Norway
Someone relocating to Norway for work or school for less than 1 year
In certain instances for people with permanent residence in Norway
For more detailed information, please see the Norweigan Toll Customs site.
Interesting Facts About Norway
Norway prohibits cars being advertised as environmentally friendly!
Norway has voted against membership in the EU several times, but has implemented more EU directives than any other EU member state.
Even though the country is one of the top oil producers in the world, gas is more expensive in Norway than almost anywhere.
Beware of vacationing in Norway during August. Shops and restaurant services almost come to a stop during this month as they are on vacation.
For further information on any of above service options, please call and discuss your shipping needs with one of our Car Shipping Specialists at: US Tel: 800 599-0190 // 562 408-6677
Written by Damien Shields