The number of Americans moving to Dubai from the USA has grown huge over the last decade. With a plethora of jobs and great quality of life, Dubai is becoming a place many are starting to call home. Though the actual process of moving to Dubai can look daunting if you've never done it before. However with the help of Schumacher, your relocation can become more clear and direct.
Learn how to move to Dubai with Schumacher below and start your relocation today!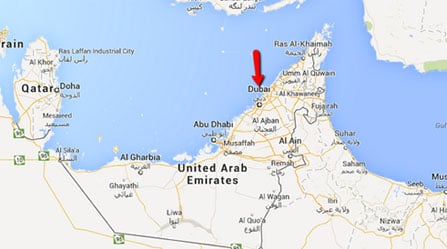 Our Overseas Relocation Services to Dubai
With so much development over the past few years and an atmosphere favorable to big business, Dubai has seen huge growth in terms of its expat population and construction.
Each year, Schumacher Cargo helps families and individuals alike move overseas to Dubai with personal effects, household goods and a variety of other items as well as those returning from a stay in the United States.
Our international moving services to Dubai include:
Full households
Partial households
Furniture
Vehicles
Any other cargo
Household Goods Shipping
Located on the Persian Gulf, Dubai offers excellent access and has become a major international shipping point in the region.
This makes moving to Dubai with household goods relatively easy since there is direct sea access through the Gulf of Oman, as well as air freight options for speedier delivery.
Port Information
Jebel Ali is the largest shipping port in all the Middle East and just happens to be in Dubai. The port services a very large number of containers each day and offers multiple storage facilities.
If you are looking to move household goods to Dubai as part of your relocation, we have sailing options every other week so we can meet your needs from a time frame point of view. The goods will arrive at the port and then we move them to your new home, no matter where it is in Dubai.
If you are wondering which types of goods have certain restrictions in the region, outside the common ones like elicit material, firearms, etc. the UAE covers most even though Dubai is its own city state.
Can Americans Move to Dubai?
Yes, Americans can absolutely move to Dubai. Dubai is a popular destination for expatriates from around the world, including Americans. However, there are some requirements that Americans need to meet to live and work in Dubai long term.
Americans need a residency visa to live in Dubai, which can be obtained through sponsorship by an employer or a family member who is a UAE national. The visa application process involves several steps, including medical tests and background checks. In addition, Americans are required to have a work permit to work in Dubai. This can be obtained through sponsorship by an employer. The employer is responsible for obtaining the work permit for the employee. Americans are also required to have a valid passport, and in some cases, a tourist visa if they plan to stay in Dubai for a short period of time.
For more Information on requirements for living in Dubai, contact UAE Embassy
How Much Does Moving to Dubai Cost?
The cost for moving to Dubai depends on the information particular to each shipment. For example, a move to Dubai from Los Angeles will have a different price than a move to Dubai from New York even with the same amount of goods. To get people an accurate rate, our specialists create custom quotes for each shipment.
Use our quote form at the top of the page to get your custom cost.
Methods to Ship to Dubai
When shipping your goods to Dubai, there are 3 major options available: consolidated container, full container, and air freight. Each of these have different situations where they're the best method for a particular shipment.
Consolidated Container Shipping to Dubai
This is one of the most popular services when shipping to Dubai because the cost is based on exactly the amount you ship. When selecting this service, your goods are put into a container with others shipping to the same location then ships when full.
Full Container Shipping to Dubai
Full container shipping to Dubai is based on 20' and 40' containers, where the container is shipped by one person. This service works best when you have an amount of goods close to filling the whole container or need to ship at a faster speed. This service is faster since there is no consolidation period to wait on.
Air Freight to Dubai
When shipping via air freight, speed is the only priority with price being substantially higher. In this case, your shipments go onto a plane rather than a shipping vessel. While this is much faster, this service is primarily used to ship very time sensitive and expensive items such as cars for a race or museum art.
Local Information
As mentioned, Dubai is home to not only the largest port in the UAE but the Middle East in general. However, those moving to Dubai from the USA will most likely be boarding a plane and taking an international flight.
Dubai International Airport offers flights to and from the USA, Europe and countless others and is the primary airport for Emirate Airlines. It also has a busy cargo sector as well for those shipping cargo via air freight.
The area of Dubai is roughly 1,590 sq miles (4,115 sq km) with smaller municipalities and its major metro area being the city of Dubai. It's also the largest in terms of its population regarding the United Arab Emirates.
Popular Attractions
In addition to its plethora of glimmering high rises, skyscrapers, and oasis-like landscaping, it also features:
Dubai Mall-One of the world's biggest
The Burj Al Arab-Prestigious 7-star luxury hotel
Khalifa Tower-Currently the tallest building in the world
Dubai Flower Garden
We've only just scratched the surface for those moving to Dubai. There is a lot more but start the process by taking advantage of our regular departures and different service options. Once you start working with us, we can direct you through every step for a successful move.
Places to Live for Americans in Dubai
Dubai is a large and diverse city with many great areas to live, depending on your preferences and lifestyle. No matter where you choose to live in Dubai, we can bring your goods to your new home. Here are some popular areas that Americans live in Dubai as expats:
Downtown Dubai:
Located in the heart of the city, this area is home to the iconic Burj Khalifa and the Dubai Mall. It's a bustling and vibrant neighborhood with plenty of entertainment options, including restaurants, cafes, and shops.
Dubai Marina:
This is a waterfront development with luxury high-rise buildings and beautiful views of the Arabian Gulf. It's a popular area for expats, with a wide range of restaurants, cafes, and shopping options.
Jumeirah:
This is a coastal residential area with beautiful beaches, parks, and gardens. It's a family-friendly neighborhood with plenty of schools and recreational activities.
Palm Jumeirah:
This is an iconic man-made island in the shape of a palm tree, with a range of luxury apartments, villas, and hotels. It's a popular area for expats and tourists, with beautiful beaches and a variety of dining and entertainment options.
Emirates Hills:
This is a gated community with luxury villas and beautiful landscaped gardens. It's a quiet and exclusive area, popular with high-net-worth individuals and families.
Top 10 Reasons Expats Live in Dubai
Expats we've moved share some of their favorite things about relocating to Dubai. There are a ton of different reasons, but here are the most popular from them:
1. High standard of living:
Dubai has a high standard of living with modern infrastructure, excellent healthcare facilities, and a safe environment. Many find that there is any and everything available to them and feel very protected being there.
2. Tax-free income:
Dubai has no income tax, which means more money in your pocket.
3. Multicultural environment:
Dubai is a cosmopolitan city with a diverse mix of cultures and nationalities, making it a welcoming place for expats. Actually a majority of the people in Dubai are actually expats from around the world.
4. Thriving business hub:
Dubai is a major business hub, with many international companies having a presence in the city. This creates many job opportunities for skilled professionals.
5. Amazing food scene:
Dubai has a thriving food scene with a wide range of international cuisine, from traditional Arabic dishes to global cuisine. No matter what you enjoy, you should be able to find it here.
6. Entertainment and leisure activities:
Dubai offers a variety of entertainment and leisure activities, from theme parks and water parks to shopping and nightlife.
7. Easy travel access:
Dubai is well-connected with direct flights to major cities around the world, making it easy to travel and explore. While the actual time takes quite long, there is good access to many more niche flights.
8. Opportunities for adventure:
Dubai offers many opportunities for adventure, including desert safaris, skydiving, and water sports.
9. Great weather:
Dubai has a warm climate with plenty of sunshine, making it an ideal destination for outdoor activities and beach lovers. If the heat isn't your favorite, Dubai features many buildings close together with great temperature control.
10. World-class education:
Dubai has many international schools and universities that offer high-quality education to students. This means that expats don't need to worry about their kids school level when living here.
Start Your Move to Dubai with Schumacher
For more than 40 years, Schumacher has moved people to and from Dubai and the United States. With the vast amount of experience and world class service, your relocation will be a walk in the park.
When you're ready to get started, fill out our Online Quote Form and start your move to Dubai from the USA today!
For further information on moving to Dubai or other international shipping questions, call and discuss your overseas move with one of our Moving Specialists at: 800 599-0190 or 562 408-6677
More Info
Schumacher Dubai International Moving Company Reviews