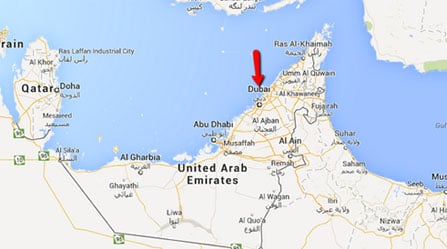 Our Overseas Relocation Services to Dubai
With so much development over the past few years and an atmosphere favorable to big business, Dubai has seen huge growth in terms of its expat population and construction.
Each year, Schumacher Cargo helps families and individuals alike move overseas to Dubai with personal effects, household goods and a variety of other items as well as those returning from a stay in the United States.
Our international moving services to Dubai include:
Full households
Partial households
Furniture
Vehicles
Any other cargo
Household Goods Shipping
Located on the Persian Gulf, Dubai offers excellent access and has become a major international shipping point in the region.
This makes moving to Dubai with household goods relatively easy since there is direct sea access through the Gulf of Oman, as well as air freight options for speedier delivery.
Port Information
Jebel Ali is the largest shipping port in all of the Middle East and just happens to be in Dubai. The port services a very large amount of containers each day and also offers multiple storage facilities.
If you are looking to move household goods to Dubai as part of your relocation, we have sailing options every other week so we can meet your needs from a time frame point of view.
If you are wondering which types of goods have certain restrictions in the region, outside the common ones like elicit material, firearms, etc. the UAE covers most even though Dubai is it's own city state.
Local Information
As mentioned, Dubai is home to not only the largest port in the UAE but the Middle East in general. However, those moving to Dubai from the USA will most likely be boarding a plane and taking an international flight.
Dubai International Airport offers flights to and from the USA, Europe and countless others and is the primary airport for Emirate Airlines. It also has a busy cargo sector as well for those shipping cargo via air freight.
The area of Dubai is roughly 1,590 sq miles (4,115 sq km) with smaller municipalities and it's major metro area being the city of Dubai. It's also the largest in terms of it's population in regards to the United Arab Emirates.
Popular Attractions
In addition to its plethora of glimmering high rises, skyscrapers and oasis-like landscaping, it also features:
Dubai Mall-One of the worlds biggest
The Burj Al Arab-Prestigious 7 star luxury hotel
Khalifa Tower-Currently the tallest building in the world
Dubai Flower Garden
We've only just scratched the surface for those moving to Dubai. There is a lot more but start the process by taking advantage of our regular departures and different service options.