For anyone shipping to the UAE from the USA, Schumacher Cargo Logistics can handle it whether it's for a move, business, or a overseas purchase.
The United Arab Emirates has its own requirements that goods must meet in order to be eligible for entrance. Being able to move you through this process is something our shipping company has over 40 experience doing. We know dealing with the paperwork, customs, and processes can be frustrating without the help of an experienced international freight forwarder.
Read our guide below on how to ship to UAE from the USA and start your international shipment with SCL.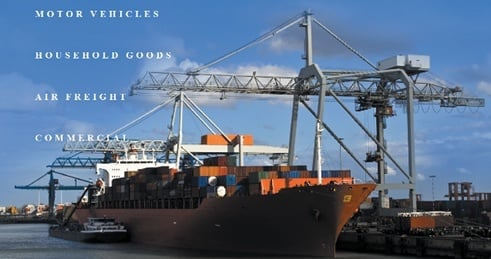 How to Ship to UAE
The majority of consignments and freight we ship to the United Arab Emirates are bound for three locations: Dubai, Abu Dhabi, and Jebel Ali. These cities also happen to be home to the largest ports for containerized cargo. Because of this, shipping to Dubai, Abu Dhabi, and Jebel Ali is the most straightforward for your goods.
It's important to note that when shipping ocean freight to the UAE from the USA, most steam lines use Dubai as the port of entry but this can vary depending on the type of service. This is where your shipment will enter and clear customs when using our container shipping service.
The partner agents arrange inland transportation of your goods if needed, or clients can pick the cargo up themselves at the loading facility. This means that even if you are shipping to somewhere like Sharjah, we can still bring it right to your door.
Ocean Freight Services to the UAE
Our ocean freight shipping to UAE has many different options in order to best accommodate our customers and their goods:
Full container load
Partial container load
Departure shipping locations in the US include Los Angeles, New York, Houston, Miami, and Savannah.
Additional UAE Shipping Services
In addition to our ocean container services, we also offer alternatives depending on the cargo in question. For larger items like boats and heavy equipment, we also offer a Ro-Ro service. This service is ideal for any vehicle freight that won't fit inside the standard 40ft container.
For those that need an item shipped in a relatively short period of time, we offer an air freight service and have our own department specialists.
What to Know Before Shipping to the United Arab Emirates
Different costs are associated with shipping to the UAE depending on the commodities.
For those bringing a motor vehicle, certain restrictions apply to the vehicle's history as well as driving specifications. If the car meets the import requirements, then to clear customs in Dubai expect to pay 5% tax on the total value of the vehicle.
For other items, if they are an amount acceptable for personal use there is no customs tax. Though there will be an inspection fee on the container. You may also have to present a permit or an import license for certain items.
How Much Does Shipping to the UAE Cost?
Whenever you are shipping internationally, there are many details that affect your shipment prices, and the UAE is no exception. For example shipping to Dubai from LA will have a different price than from NY all else the same. Due to this our representatives create custom quotes for each shipment to the UAE.
To get your custom quote, fill out our online request form here.
How Long Does Shipping to the UAE Take?
The same factors that affect cost also affect time.
Those moving goods from the west coast can expect the container to be on the water for 5-7 weeks usually. On the other hand, shipping from the east coast of the United States to either Dubai or Abu Dhabi generally takes between 3-5 weeks on the water depending on the service.
These times take longer for consolidated shipments as they need time to fill up before departure.
Our estimates are based on averages and shipments will sometimes vary shorter or longer than that.
Importing Your Goods into UAE
Most of the information below applies to those completing the import process themselves, however, it's usually completed by our receiving agents in Dubai.
Any goods being imported into the United Arab Emirates, regardless of whether it's via ocean freight or air freight, will be subject to the following customs procedures.
First, individuals need to submit a detailed customs declaration including any additional documentation that may be needed. ie. bill of lading/bill of sale if you want to ship a vehicle.
Register customs declaration with the competent customs officer.
Transfer goods to examination, checking and inspection.
Evaluate goods for the purposes of payment of customs duties.
Release of goods.
More UAE Info
Need additional information for shipping your cargo to the UAE? Call us today to speak with an expert at (562) 408-6677 or get a free online quote.
SCL UAE Shipping Reviews